Anupama Shenoy said she'll be back, and she is!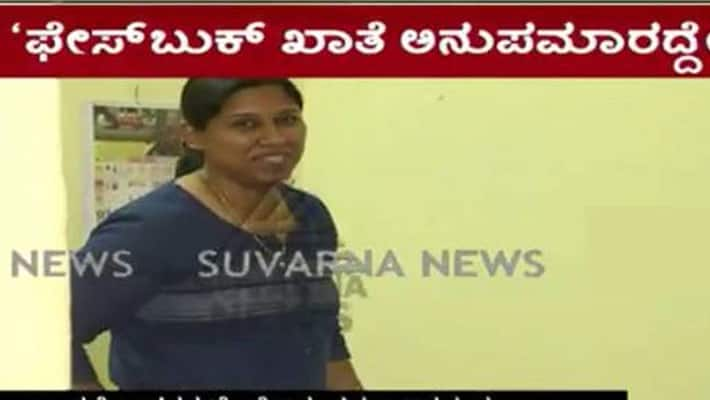 Anupama Shenoy has returned.  And the Kudligi deputy superintendent of police, whose resignation is pending acceptance, may start her war against minister Parameshwar Naik in person.
Shenoy, who has been furiously campaigning against the state's labour minister on social media, jokingly remarked, 'I don't know what Facebook is!' She has decided to take things personally, no pun intended.
Read more: Was Anupama Shenoy's 'audio release' an empty threat?
Shenoy has finally arrived in Kudligi this morning after five days when no one knew where she was. She was reportedly at a relative's house in Shimoga until now. She came to her Kudligi police quarters along with her brother today at 4.45 a.m in her private vehicle. She is likely to meet Ballari SP Chetan in the evening.
As soon as she got down from her car, she spoke to Suvarna News.
Suvarna News: Are you going to meet SP today?
Anupama Shenoy: Yes
SN: At what time?
AS: In the evening.
SN: What is your next step?
AS: There is no any 'step' further. I have given resignation and stick to that.
SN: There was a lot of confusion about your FB statuses. Was that your account?
AS: (smiling with awe) I have no Face book account. I don't know what Facebook means. (Please let me go inside)
SN: But it was being updated continuously for five days?
AS: Somebody must be updating it in my name. I think it was being hacked. (Off the record she accepted that it is her original account)
After this interaction, she instructed the media friends to keep their mobile phones and cameras away for a while and then continued an off-the-record conversation for about 10 minutes. During that, she explained the reason behind her transfer, the developments at Kudligi, and about her Facebook updates. She is believed to have said that she is mentally prepared to face further developments.
Read more: Is Anupama Shenoy's agitation a route to the BJP?
Responding to the question related to her audio and video recording of Naik, she said that she was not as vindictive as to record a video of someone's private life secretly and show it to the public. She accepted that she has such video and audio footage, but she did not comment on whether she would release that.
There is a rumour that the audio recording that she has contains Parameshwar Naik verbally abusing her for not receiving her call and the video that she has contains footage of Parameshwar Naik with a woman in Hanagal IB.
Karnataka CM Siddaramaiah, meanwhile, has ordered the DG to counsel Shenoy into staying in her job.
"She is a helpless, poor girl. I have instructed the DG to not to accept her resignation. First, let us know what made her take this decision and convince her to attend to her duties. I have told the DG to look into the matter" he told journalists.
When asked about her Facebook statuses, he said that he doesn't know about them. However, he said, "Ultimately nobody is higher than the government and everyone should follow the government rules."
Commenting on Anupama's rage he said that she has every right and opportunity to discuss her problems with her superiors.
This evening, after meeting the SP, she is going to explain everything in detail to her SP.  As per the instructions of DG Om Prakash, SP Chethan may counsel Anupama to take back her resignation.  
Last Updated Mar 31, 2018, 6:57 PM IST