Amid promises, Andhra still waits for Centre's package
The Special Category Status has become an emotional issue in the state.
Top BJP leaders had also demanded according SCS to Andhra Pradesh during the UPA regime.
The still awaited Special Financial Package is seen as a sop to placate AP.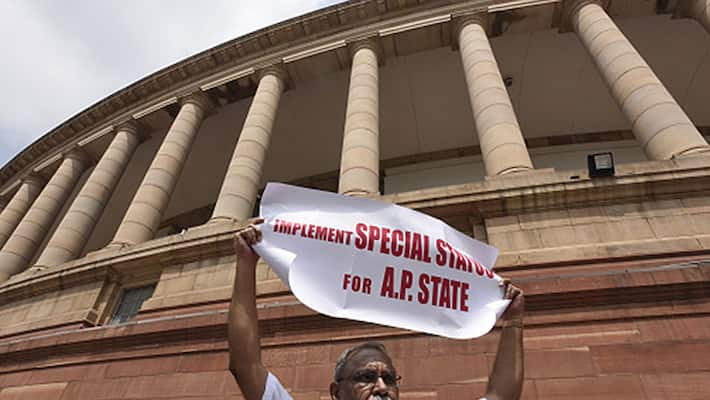 The Union Cabinet would soon approve the special financial package announced last month for Andhra Pradesh, Union Minister of State for Science and Technology, YS Chowdary said today.
    
"The Centre will be giving the Cabinet approval as a guarantee soon. The TDP (ruling party in Andhra Pradesh) will always push for the best interests of the State, and Telugu people," he told PTI in an interview.
    
He was asked whether the TDP is pushing for getting a legislative guarantee or legal status to the package announced by the Centre.
    
The financial package announced by the Centre on September 7 includes full funding of Polavaram irrigation project, tax concessions and a special assistance.
    
Leaders of the ruling TDP have said they will make efforts to get some sort of a guarantee from the Centre for the implementation of the package, which was announced as a substitute for the special category status (SCS) promised to AP by the previous UPA government following the bifurcation of undivided AP.
    
The SCS, promised to Seemandhra (new Andhra Pradesh) on the floor of parliament by the then Prime Minister Manmohan Singh, has become an emotional issue in the state with the opposition parties in particular forcefully demanding that the NDA government keep up the promise.
    
YSR Congress president and opposition leader YS Jaganmohan Reddy held a meeting in Kurnool district to voice the demand for SCS.
    
Actor-turned-politician and Janasena party founder Pawan Kalyan had also been pushing the case for SCS.
    
Top BJP leaders, including Arun Jaitley and Venkaiah Naidu, who are now in government, had also demanded according SCS to Andhra Pradesh during the previous UPA regime.
Last Updated Mar 31, 2018, 6:33 PM IST