After Andhra and Telangana now Karnataka heading for a spilt?
MES demands to include Belagavi and surrounding taluks in Maharashtra
Kodagu wants to be a United Territory
Tulu speaking people want a state of their own -Tulu Nadu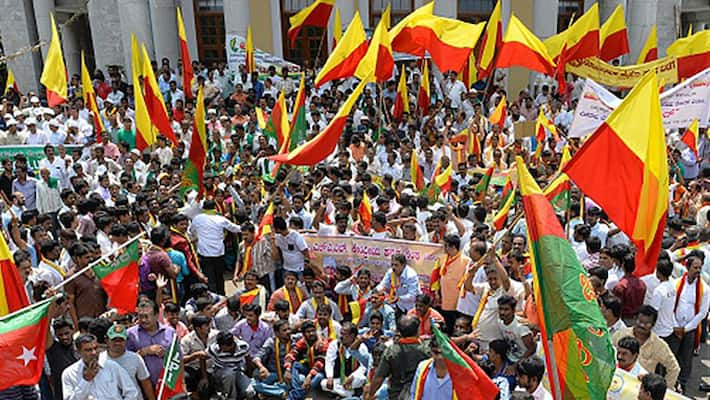 One of the main reasons behind the cry for separate state is unsolved border issues. This stands true in terms of Belagavi. The fight between Maharashtra Ekikarana Samithi (MES) and pro-Kannada organisations in Belagavi, a part of Karnataka, has remained unsolved since the day Karnataka was formed. MES has made it a point to create ruckus and unrest especially during Kannada Rajyotsava, celebrated on November 1, every year.
This year too, MES activists including the Belagalvi Mayor Sarita Patil and Deputy Mayor Shivaji Shindhe wore black cloth to protest against Kannada Rajyotsava celebration. MES activists were seen holding AK 47s and pelted stones on boards written in Kannada.
They shouted slogans "Ek Maratha lakh Maratha', 'Belaganva, Khanapura, Nippani, Bidar, Bhalki samet Maharashtra Jhaalaayich Paayije" – meaning One Maratha is equal to one lakh Maratha. Belagavi, Khanapura, Nippani, Bidar and Bhalki should be made a part of Maharshtra.
The police caned the protesters to disburse the mob.
After the procession MES held a public meet in Maratha Mandir. Rajesh Ksheersagar, Legislator of Kolhapur told that Maharashtra cannot tolerate injustice meted out to marathas in Karnataka.
"We are struggling since 60 years but the Karnataka government has not responded to our demands. Now Maharashtra has appealed to the Supreme Court to unify the above said taluks with it. We will produce document to the court by January 15. You continue to stage protest and Maharashtra will support you," he told to the protesters.
Vijaya Devani, Shiv Sena leader told that Maharashtra is not ready to accept the report of Justice Mahajan Commission report which has recommended keeping Belagavi in Karnataka. 
Municipality administrative board of Belagavi district was superseded two times (once in 2006 and again in 2011) due to its anti-Karnataka stand.
What Kodagu wants?
The people of Kodagu district also have put forth their demand to separate from Karnataka and have urged the union government to consider it as a Union Territory. Kodava National Council staged a protest in Janthar Manthar, New Delhi and demanded a constitutional amendment with regard to the formation of Kodagu or Coorg as a Union Territory.
Kodagu was an administratively separate Coorg State before 1956, and was later merged into Mysore State and then Karnataka.
Lawyer Brijesh Kalappa, Kaliyanda Prakash, Ajjikuttira Lokesh and other Kodava leaders were present in the protest.
Their demands include to recognise Kodava land as Union Territory; autonomy to the Kodava land under schedule 6 of Indian constitution; inclusion of Kodava Tribal community in the scheduled list under Article 340 and 342 of Indian constitution; formation of Kodagu Development Board and inclusion of Kodava language in the 8th schedule of Indian Constitution.
Tulu Nadu also wants to separate?
People speaking Tulu Nadu and mainly residing in the coastal areas of Dakshina Kannada and Udupi districts also have demanded for a separate state.
In Udupi, Tulunadu Rakshana Vedike observed November 1 as black day. The workers of the Vedike alleged that the state government is biased towards Tulu community and Tulu language. 
The Vedike staged protest near Gandhi statue opposite to Udupi service bus stand. Yogesh Shetty, Founder and chairman of the Vedike demanded for a separate state for Tuluvas.
Last Updated Mar 31, 2018, 6:36 PM IST