Activists wash, clean Udupi Mutt after Dalit visit
Vishwesha Teertha seer of Pejawar Mutt inaugurated Kanaka Nade, near Kanakana Kindi in Udupi
Yuva Brigade honoured the municipality labourers who clean the premises on a daily wage basis
The campaign was organised following Udupi Chalo event by progressive groups against Yuva Brigade and attitude towards Dalits in Udupi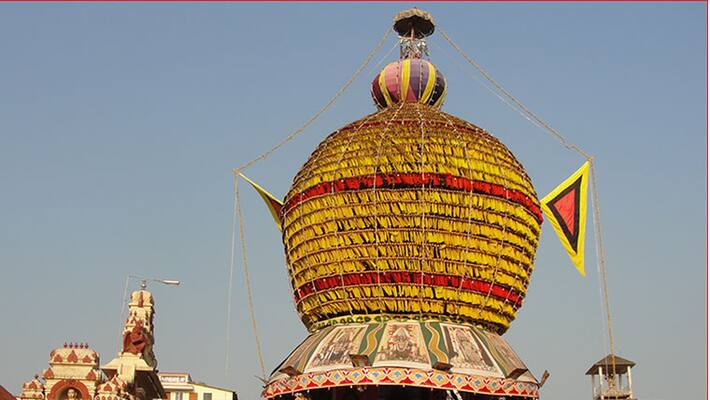 Vishwesha Teertha seer of Pejawar Mutt inaugurated the campaign by garlanding the idol of Kanakadasa, near Kanakana Kindi.
After the inauguration, he said that this is a symbolic act "We should clean our inner being by removing anger, hatred, jealousy and other garbage from our minds."
After the speech he blessed the campaign organised by the Yuva Brigade, saying that this kind of campaign should spread across the country.
He defended the campaign by saying that the Yuva Brigade is conducting this campaign with the compliance of order the local governance.
Chakravarthi Sulibele, the organiser of the campaign, said that they respect the law and are conducting the program as per the directions of the local governance.
"We are not cleaning public places and roads. We are cleaning just the premises of the Mutt. This is not a reaction to the 'Udupi Chalo' campaign of Dalits and leftists. Some prejudiced minds have propagated negative opinion on Mutt, and we want to create an environment in Udupi that such minds will be cleansed. Even Dalits are participating in this campaign" he added.
The Yuva Brigade honoured the municipality labourers who clean the premises on a daily wage basis. The pontiffs of Shiruru, Kaaniyuru and Sode Mutt were present.
After the inauguration, the workers of Yuva Brigade cleaned the outer premises of the Mutt, parking area, toilet buildings and Madhva Sarovar. They sang the keerthanas of Saint-Poet Kanakadasa.
DySP Kumara Swamy had deputed hundreds of cops in the premises of the Mutt to maintain law and order.
Last Updated Mar 31, 2018, 6:37 PM IST