Activists protest as BBMP decides to axe 40 trees
40 large trees are to be felled in Jayanagar and Nrupatunga Road.
NGO Janaagraha faces heat for supporting the indiscriminate felling of trees.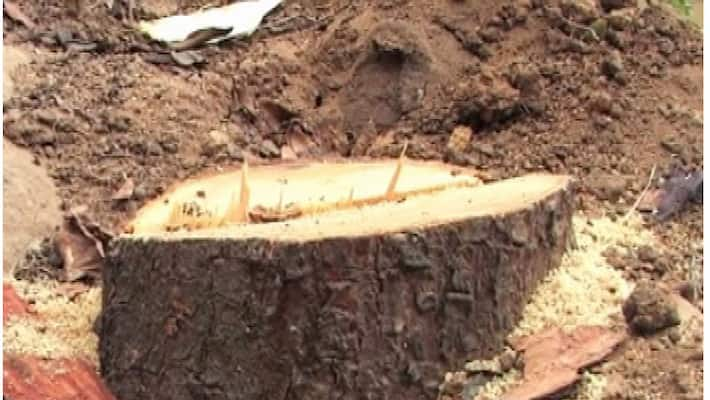 In contrast to the saying 'plant a tree and it will save you', the Bruhat Bengaluru Mahanagara Palike (BBMP) is all set to cut about 40 large trees around the city, drawing loud criticism from environmentalist.
21 trees have been marked for felling in Jayanagar 11th main and 18 trees are scheduled to meet a similar fate in Nrupatunga Road. The trees are planned to be felled for the 'Tender SURE Roads Project.'
Members from 'Urban Governance and Commons', 'Green Bengaluru Campaign', 'Hasiru Usiru' and other environmental activists organised 'Mara Appiko Chaluvali', (Hug a tree) campaign on Friday and gathered around the trees with placards, posters and banners to draw attention to the planned felling.
An emotional Geetha Menon, one of the activist who hugged a tree, said,
"These trees are huge and can give shade. They absorb carbon dioxide and dust and give oxygen in return. But the BBMP has already cut a few trees in Jayanagar and are ready to fell 18 trees in Nrupatunga Road. This will lead to serious environmental consequences".

"To cut any tree for the development project, the matter has to come before Tree committee. However, the committee is yet to take  shape due to the government attitude. Another grave concern is that, if the project involves cutting more than 50 trees, then approval should be taken by the tree committee. However the project plan indicates a lower number of trees, hence it is easy to get approval from the BBMP's forest cell," Observed Vinay Srinivasa, a member of 'Hasiru Usiru'.
"We are not against footpath designs. But not through the Tender SURE project, which will be replicated in another 50 existing roads. This would mean the cutting of over 1,000 trees," said Kshijit Urs, Co-Convenor, Urban Governance and Commons.
The Tender SURE project has been mired in controversy, as local activists accuse Swathi Ramanathan (the co-founder of Janaagraha, the NGO running it), Kiran Mazumdar Shaw and other "elite class" members of getting projects cleared "...in less than hour at a breakfast meeting with Sadananda Gowda when he was CM,"
The haste in which the trees were being felled also led to accusations of the involvement of a 'timber lobby', which the assembled activists speculated may wish to sell the wood once trees were felled. 
Currently, each kilometre of road costs about ₹18 crore. So far, in two phases, 12 roads have undergone the redesign at a cost of ₹201 crore. Six have been completed and by end of this year, the remaining six are expected to be completed.
Forest wing on defensive:
Deputy Conservator of Forest Cell, BBMP, Appu Rao, stated that the BBMP received the request to cut the trees from the project promoters. 
"The trees are old. These trees may fall during strong winds and hence, the forest cell identified only those trees that could be a danger to human life, for felling. There is no timber lobby, and the trees are cut only after carefully examining the status," he said.
Despite several attempts to contact Swathi Ramanathan for her comments, no response was received by Asianet Newsable 
Last Updated Mar 31, 2018, 6:49 PM IST