This wild tusker simply can't resist hotel food
• The wild elephant is a frequent visitor to the village at Ettammile near Mattupetty in Munnar.
• It is the second time the elephant visited the hotel just to savour cooked food.
• The tusker stopped its food heist after it accidentally got burnt its trunk while searching for food.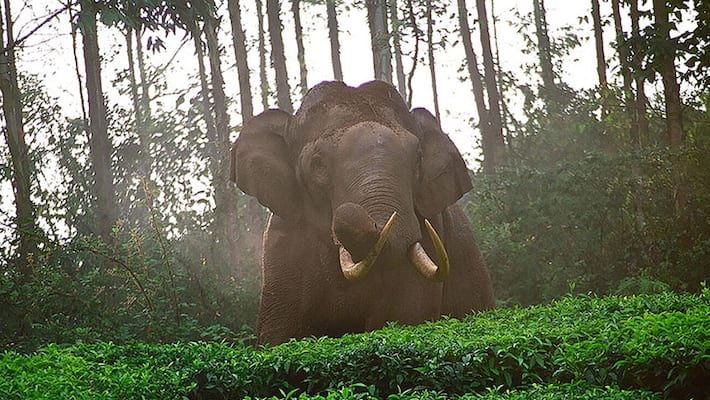 There are wonderful stories about the amazing memory power of elephants and their love for food. This wild elephant loves trespassing into a village near Munnar, the scenic hill station in Kerala, just to savour the dishes from a roadside eatery.
Also read: Hungry jumbos raid house, feast on gold!
The wild pachyderm, fondly called Chilli Komban by local people, couldn't forget the taste of cooked hotel food it tasted four years back from a local restaurant at Ettammile in Mattupetty near Munnar and raided the place once again the other day.  
Watch video: Baby elephant tries to wake up its dead mother
The tusker who frequents the village in search of food, crossed the road when he saw the old hotel where he had stole food a few years back and stretched its trunk through the window hoping for a good feast. He gulped down whatever he got. He tasted the grated coconut and loved the ladyfinger fry in a matter of minutes. 
Watch video: Kerala elephant is set to enter Guinness World Records
Velankanni, who runs the hotel couldn't believe his eyes when he saw the giant animal relishing the food meant for guests.  He ran out of the hotel screaming loud.
But everything didn't go easy for this tusker either. While searching for food, it accidentally touched the stove and got burnt. Chilli Komban decided to back off from the hotel robbery for the time being. 
When the elephant visited the eatery last time, it had caused huge damage and razed the hotel to the ground. However, happy with the loot, the animal withdrew to the woods without causing any loss this time.  
Last Updated Mar 31, 2018, 7:04 PM IST