A-Swachh Mysuru: Dasara leaves Palace covered in litter
Mysuru, tagged the cleanest city in India, found itself awash in garbage.
The litter seems to have come from VVIPs, who ideally should have known better.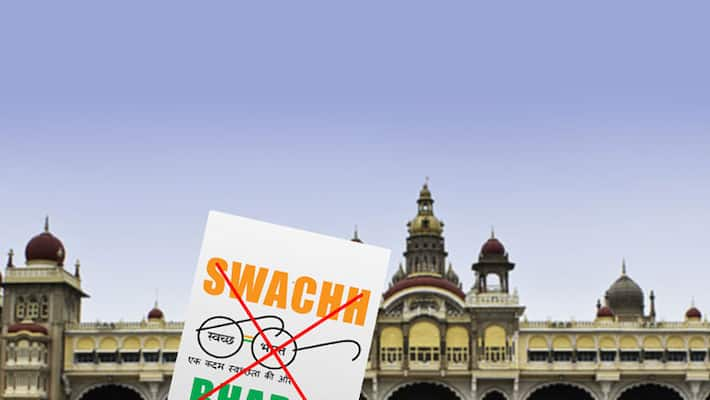 The Dasara festival has ended with the corridors of the Mysuru Palace full of garbage. Ironically, the most littered spot (image), the 'viewing gallery' of the palace is a corridor where only VVIPs are allowed. The general public is banned from this location.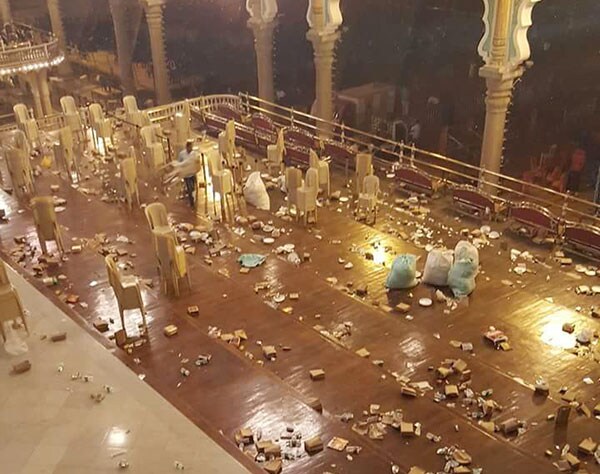 The invited VVIPs include IAS officers, politicians, top business people, police officers and their family. However, clearly, the status of rank or the wisdom of education did not deter the dignitaries and visitors from dumping whatever they had at hand at their feet.
Since further details are awaited, it not clear whether facilities like garbage bins to drop litter were available. But what is obvious is that each seat simply dropped their litter wherever the chair was placed.
Interesting, as the entire Mysuru Palace is a heritage spot, a senior lawyer confirmed that should the government choose to pursue it, legal cases can be filed against the litterbugs and those who had issued them entry passes. 
The irony is that Pramoda Devi Wadiyar and her adopted son, Yaduveer Krishnadatta Chamaraja Wadiyar, are brand ambassadors of the 'Swachh Bharat' Mission. Mysuru itself has been designated as one of the cleanest cities in India.
But now it would seem like their Swacch Bharat Mission has to begin from their Palace itself.
At least on social media, the issue is gaining strong traction and various quarters are demanding the government take some stern action and also clarify how the situation occurred.
For now, the Naren Foundation has taken up the responsibility of cleaning the Palace.
Last Updated Mar 31, 2018, 6:38 PM IST