Martyred Muslim soldier worshipped among Hindu gods in Kerala village
Ashraf laid down his life for the country on 2 November 2006.
Ashraf was a Head Constable with Border Security Force.
The dead soldier's photograph is kept in the Pooja rooms of many houses in the village.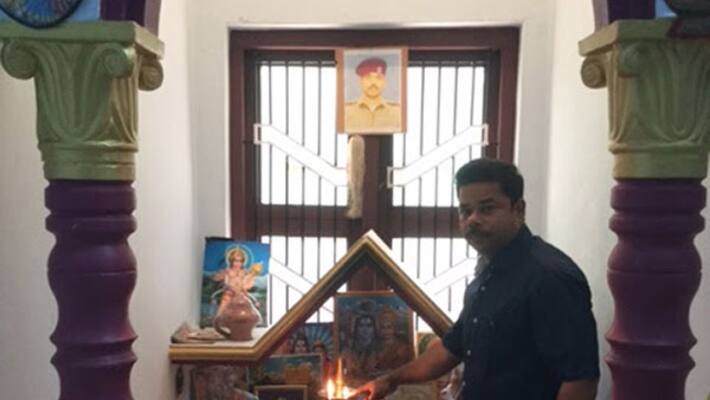 Over the time, martyred soldiers tend to fade into oblivion and become just names in the long registry of heroes. But even a decade after his martyrdom, a Muslim Jawan from Kerala is still worshipped by his villagers as a god, surpassing all religious barriers.  
 Muhammed Ashraf, a slain soldier from a remote village of Panniyoor in north Kerala will always be at the heart of his home village where he has attained a divine status for sacrificing his life. 
The photographs of the slain hero have a place among Sree Krishna, Sree Ayyappan and Saraswathi in the Pooja rooms of many Hindu houses at Panniyoor and are worshipped daily for the past ten years.  
 
Photo Courtsey: Pratheesh Kappoth
 
 Ashraf, a head constable with Border Security Force (BSF), was killed in a militant attack in Kashmir on 2 November 2006. As many as ten families placed his photograph in their homes within hours after his body was laid to rest.  
Ashraf's friend and classmate P Sajeevan placed the soldier's photograph in the Pooja room of his ancestral house on that day ten years back. Many Hindu families in the locality followed suit.  When Sajeevan shifted to a new house, he took the photograph of his friend along and gave it a respectable position in his new Pooja room. 
Every year, on the Independence Day and on his death anniversary, Ashraf's family and friends would gather in front of the soldier's ancestral house and hoist the Tricolor that once covered his casket.
Ashraf's friends still remember the valiant soldier as very polite and brave. He was an active social worker and the secretary of an arts club in the locality.
Last Updated Mar 31, 2018, 6:55 PM IST