100 varieties of tea turned this driver into a brewer
For almost 15-years, Muniswamy Daniel Jabaraj was a taxi driver
Now, his 'Sharon Tea Stall' has become the talk of the town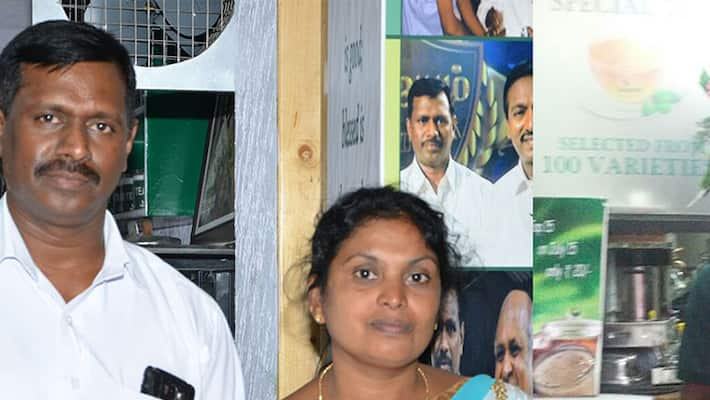 For almost 15-years, Muniswamy Daniel Jabaraj was a taxi driver with a meagre income and a family to support. As an additional source of income, he set up a tea stall and 9-years later, his shop 'Sharon Tea Stall' has become the talk of the town as he is credited with making over 100 varieties which in turn has increased his income by many folds.

He has not only cleared his mounting debts but has opened another branch of Sharon Tea Stall, and has become an inspiration for many homemakers in the city who wish to try something new with hot beverages. 

Initially, he started with tea, coffee, milk and lemon tea but since the takers were limited, he then invented few more varieties like Tulsi and other types of hot tea-based beverages. The IT crowd started crowding the place to enjoy the newer varieties of teas and made his tea stall their regular 'adda'.  Jabaraj continued with some more experiments and introduced flavours like vanilla and strawberry in tea.

His tea gained such wide popularity that even film stars started visiting the stall to satiate their craving for a good cup of tea. 

"I used to prepare normal tea and coffee like others. Once a diabetes person came to me and asked whether I can prepare sugar-free tea for him. From then on, I started preparing sugar-free tea. Slowly, people in my locality learnt that I prepare sugar-free tea and the number of customers started increasing as the number swelled I started to experiment with more varieties."

Slowly, the demand for tea increased and the flavors of tea also increased in the menu. Each day, his stall has a 'special tea of the day'. 

"I added some new flavors. Clove with Ilachi and Dry Ginger with Ilachi are selling like hot cakes as this relieves stress. Also, I have the secret ingredient and then knack to make the tea in minutes, and it is God's gift," he said.

Depending on the flavour, a cup of tea is priced between ₹10 to ₹30 at the stall.

Jabaraj runs the stall with the help of his brother and his wife. "With the support of my family, I get customers from all the parts of the city. People come from, Marathahalli, Malleshwaram, Koramangala, Kammanahalli, Whitefield, Yelahanka, and other places."
 
"Many walkers and joggers come to me especially for herbal tea in the morning hours. In the evening, this place is packed with IT and local crowd," he added.

Killing business on weekends:

With thronging customers, he makes a good business on weekends, the highest collection he says is about ₹20,000.

PV Sagar, a resident of Jeevan Bimanagar said,"I am diabetic and taking a sip of different types of tea is very safe for me. To enhance the taste, the customers are served the beverages in earthen cups."

Here at Sharon tea stall, film actors like Puneeth Rajkumar from Kannada film industry, Tamil actor Kumari Muthu, and Tamil film director Perarasu had visited and tasted few varieties of tea.
Last Updated Mar 31, 2018, 6:49 PM IST