Chandrayaan-3 LIVE: Vikram Lander manoeuvres for Moon landing
Chandrayaan-3 LIVE: ISRO's ambitious Chandrayaan-3 mission has been on a journey to the Moon since its launch on July 14. The expected touch down on the surface of the Moon's south pole is expected at around 6.04 pm today i.e. on 23 August. Watch live here.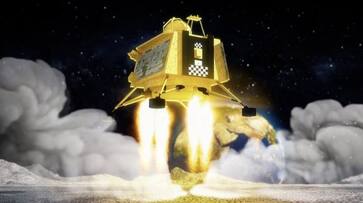 Chandrayaan-3, India's moon mission, is scheduled to touch down on the lunar surface at around 06.04 pm IST on Wednesday evening. The Indian Space Research Organisation (ISRO) has expressed confidence that the landing will take place without a hitch, as the scientists have incorporated all the valuable lessons they learnt from Chandrayaan-2.   
If all goes as planned, India will join an exclusive group, becoming the fourth nation to achieve the feat of soft-landing technology on the lunar surface, following the United States, China, and the former USSR.
The final 17 minutes of this mission are often referred to as the '17 minutes of terror.' Within this critical phase, Chandrayaan-3 will traverse through distinct stages of descent, encompassing initial preparation, velocity reduction, orientation alteration, attitude stabilization, fine braking, final descent, and the ultimate touchdown.
Also Read | Chandrayaan-3 landing: Sand artist Sudarsan Pattnaik creates sculpture of India's moon mission | WATCH
Meanwhile, ISRO chairman S Somnath has emphasized that for Chandrayaan-3, they have kept a "failure-based approach" after learning the right lessons from Chandrayaan-2 which crash landed on lunar surface in 2019
The Moon lander was launched on July 14, perched on a LVM 3 heavy-lift launch vehicle. It was placed in the lunar orbit on August 5. The name of the lander Vikram honours Vikram Sarabhai, generally recognised as the pioneer of India's space programmes. 
Chandrayaan-3 landing: Former Pak minister who mocked ISRO now praises moon mission, calls it 'historic'
According to ISRO, if the Chandrayaan-3 mission is successful in making a soft landing on the Moon's surface, India's quest of space exploration would attain a significant milestone. The space organisation said that this accomplishment will embody our country's advancement in space exploration and represent a big step forward for India in the domains of Science, Engineering, Technology, and Industry.
Chandrayaan-3 consists of three parts: a Lander module (LM), Propulsion module (PM) and a Rover. The Lander has the capability to soft land at a specified lunar site and deploy the Rover which will carry out the research on the lunar surface.
Chandrayaan-3: 'It will be a proud moment for the people of India'
Last Updated Aug 23, 2023, 5:41 PM IST