Squash: India's Yash Fadte wins French Junior Open title
The talented Yash Fadte, who regularly practices at the Cricket Club of India (CCI) courts in Mumbai, was overjoyed about his French Junior Open squash title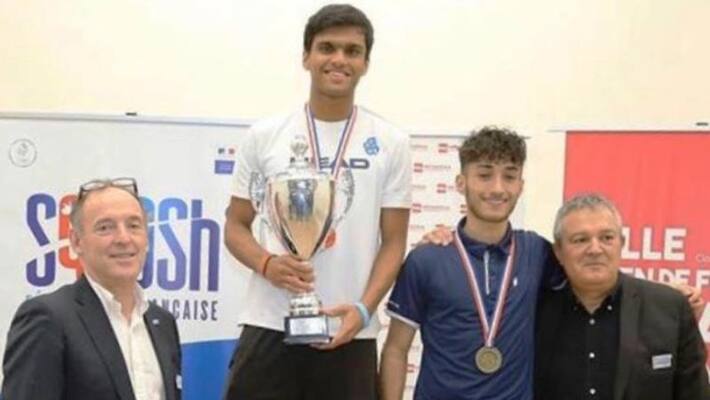 Mumbai: India's Yash Fadte (pictured, second left) did the country proud by winning the prestigious French Junior Open squash title. The 18-year-old Yash defeated second seed and Czech Republic No. 1 ranked Marek Panachek in four games pulling off a sensational 10-12, 11-5, 11-4 and 11-5 win at Lille, France, recently.
The talented Goan lad, who regularly practices at the Cricket Club of India (CCI) courts in Mumbai, was overjoyed about his success. "I was nervous and exhausted after some difficult games earlier in the championship. But, after having travelled so far, I was determined not to let go of this opportunity. I am happy to achieve this success," said Yash.
Earlier, in the pre-quarterfinals, Yash beat Swiss No. 2 Lian Keeling 3-0 (11-4,11-2, 11-1).
The Indian easily defeated France No.2 Baptiste Bouin in straight games 3-0 (11-4, 11-5 and 12-10) in the quarter-finals.
In the semi-finals, Yash faced off against France No.1 Toufik Mekhalfi and managed to pull through, winning in five games, 3-2 (9-11,11-6, 7-11, 11-8 and 11-9) in a thrilling 75-minute match.
Yash's next target is the Junior World Championship. "My ultimate aim is win the Junior World Championship and I am determined to work hard and to overcome all the obstacles so that I can achieve my goal. This win has boosted my confidence and there is no looking back now," the upcoming talent Yash further said.
Last Updated Feb 26, 2020, 11:18 AM IST