Thackeray-Fadnavis to resolve Samajwadi crisis, KJo-style!
Raj Thackeray and Fadnavis have stepped in to help the warring factions in Uttar Pradesh reach a settlement.
Akhilesh is believed to have expressed doubts about uncle Shivpal Singh Yadav's commitment to parivaarwaad.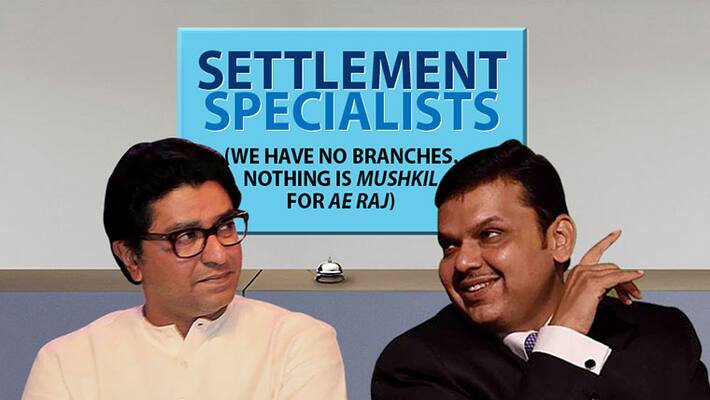 With the rift in the Yadav parivaar coming to the fore once again, the newly floated firm of Thackeray & Fadnavis has stepped in to help the warring factions reach a settlement. Responding to the tender floated by the Samajwadi Party on Sunday inviting quotations from mediation outfits, the Mumbai-based firm sent across newspaper clippings that had headlined `Thackeray Raj' as proof of their efficacy. They gave the names of Karan Johar and Mukesh Bhatt as references in their CV. 
"Hamari koyi branch nahi hai," Raj Thackeray is believed to have Whatsapped Mulayam Singh Yadav. "All negotiations will take place at Varsha, which is Fadnavis's residence. 100 percent success guaranteed. Nothing is mushkil for Ae Raj."
During his talks with the duo, Akhilesh is believed to have expressed doubts about uncle Shivpal Singh Yadav's commitment to parivaarwaad. 
"At a time, when our political enemy BJP is launching surgical strikes against us, it is not fair for Amar Singh who my supporters think is a BJP mole, to have a prominent role in our family production. I will not let Shivpal ji and my father to release the election manifesto unless they remove Amar Singh," Akhilesh told Fadnavis and Thackeray. 
Following Akhilesh's closed-door meeting with Fadnavis & Thackeray, chairs were removed from Shivpal Singh's office. "Shivpal Singh Yadav will not be able to perform any official duty as all his chairs have been taken away. Even the LCD screens outside his residence will not be spared. He should remember such screens are expensive," warned a member of the Lucknow chapter of the Uttar Pradesh Chairs Association. 
Akhilesh's supporters have also raised objection to outsiders featuring in a family drama. "Censor Board has given SP a 'U' certificate. When a un-pariwaarwaadi like Amar Singh is cast in an important role, he makes it an 'A' film, all about himself. We do not want him within kissing distance of the SP," said Udayveer Singh, a close confidant of Akhilesh Yadav. 
The role of actor Jayaprada, who is considered close to Amar Singh has been chopped off as well. It may be recalled Singh had made a song and dance about her entry into the SP. When Tenali Rama contacted Jayaprada for her reaction to her exit from the mega project, she mocked the media singing, "Dafli waale dafli bajja..."
Fadnavis-Thackeray duo has also suggested that Mulayam Singh be asked to put up a plaque at the Samajwadi Party office in Lucknow saying 'he greatly respects the contribution and commitment of Tipu to the SP'. Tipu incidentally is Akhilesh's nickname. The SP veteran also has been asked to give in writing that no SP leader will ever work with Amar Singh in future. 
But the Shivpal Yadav camp is willing to fall in line only if Akhilesh agrees to donate ₹5 crore to a fund that will be created for the political welfare and rehabilitation of Amar Singh. Azam Khan, another anti-Amar Singh leader has in turn, demanded that a BSF be formed in the SP. The BSF will be Buffalo Security Force, to protect Azam Khan's buffaloes.
Meanwhile, another Mumbai firm has also evinced interest in getting involved in settlement of the Yadav politico-domestic dispute. Raj Thackeray's cousin, Uddhav Thackeray's company Shiv Sena has in fact, claimed copyright infringement by the former and has threatened to drag him to court. 
(Tenali Rama is a satirical series by senior journalist TS Sudhir)
Last Updated Mar 31, 2018, 6:44 PM IST