Column: Two Years of Modi and the Bleeding Rhino!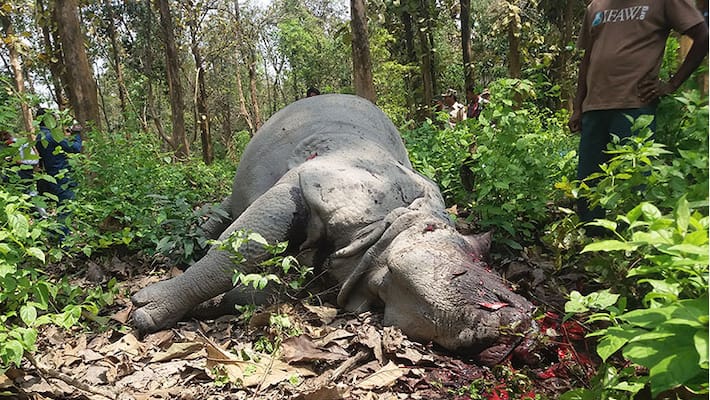 If I recall correctly, in one of the first speeches in the run-up to the general elections Narendra Modi theatrically thundered, Devalaya nahi Shauchalay (not temples but toilets).
It will be two years of him being the prime minister and the toilet joke is what Wateraid said in its 2015 report, "If you stretched all 774 million people in India now waiting for household toilets, the queue would stretch from Earth to the moon – and beyond! That queue would take 5,892 years to work through, assuming each person needs about four minutes in the toilet."
No joking Mr.Modi !
Modi and Rhino
There is another promise that he made in those dramatic election campaigns and this one scripted a surprise gain for him; Assam, where the BJP won seven of the 14 Lok Sabha seats. On April 1, 2014, Mr. Modi in a rally at Dhemaji alleged that there was a conspiracy to eliminate the endangered one-horned rhinoceros (the symbol of Assam) to make way for settling illegal migrants from Bangladesh. In the same speech he added, "Those who are conspiring to finish off rhinos, they should listen to this carefully. After May 16, they will be taken to task one by one (chun chun ke hisab liya jayega)."
For Mr. Modi's hisab, Kaziranga alone has lost eight rhinos to poachers in the first four months of this year. Two were killed during the recent visit of the British royals Kate and William who decided to visit the national park to raise awareness against rhino poaching. (The awareness, perhaps, should be raised in China and Vietnam not Kaziranga!) It is a crime controlled by the demand for rhino horns in those countries.
Since his threat in Dhemaji, more than 50 rhinos have been poached in Kaziranga National Park.
The Latest Threat
Traditional hunting guns and poachers were used to hunt rhinos in Assam.  Sharp shooters were hired from Nagaland who crossed over the Karbianglong hills facing the park by taking help of villagers settled on the fringes of the forest. By 2010 the pattern changed and there were brutal hacking of horns on live rhinos that then bled to death. A year later the pattern changed again and automatic weapons were being used indicating involvement of militant groups operating in that area perhaps to raise money.
A forest officer's involvement was also alleged and there were reports of fake horns being traded. A week ago three forest guards along with four poachers were arrested at Kaziranga, a first of its kind. One hopes this was an exception but given the extreme conditions under which forest guards are expected to deliver, aberrations are inevitable.
Kaziranga Encounters
India's Kaziranga National Park and Pabitora Wildlife Sanctuary, also in Assam hold about 75% of the world's greater one-horned rhino population. Under pressure to show results, every time a rhino is killed, some alleged poacher is also identified by the authorities and often killed. As insiders would tell you most of the "encounter-killings" have not been investigated or proven.  
In 2014 there were 20 fatal shootings in the park. In a period of 10 years some 68 alleged poachers were shot. But in majority of the cases procedure was not adhered to; charge sheets, informing the NHRC within 48 hours and holding magisterial inquiries were not followed up. If the authorities have been so sincere about cracking down on poaching the prosecution of offenders should have reflected that. Unfortunately, the conviction rate is abysmal and encounter killings grossly outnumber the convictions.
All animals are the same but some are more equal than others
I remember a brilliant opening line by a colleague from the BBC on rhinos in Assam and how I wished that line was mine! He was shooting a series on endangered species and on this one he started by saying something like this: "If wildlife conservation was a beauty pageant then the tiger would surely beat the rhinoceros". That almost entirely captures the predicament of a rhino; endangered but can't get enough eyeballs, political patronage or Hollywood stars trying to save it. Amitabh Bachchan is unlikely to bellow like a rhino and raise money like he roars for saving the tiger!
The tiger may be at the top of the food chain but the rhino is one of the last remaining big animals.
Unlike Project Tiger, the rhino has not been able to generate that kind of government budget to support its conservation. There is an Indian Rhino Vision 2020, a partnership among the government of Assam, the International Rhino Foundation, the World Wide Fund for Nature, the Bodoland Territorial Council and the U.S. Fish & Wildlife Service that aims to attain a population of 3,000 wild rhinos in seven of Assam's protected areas by the year 2020. One hopes that the increase in numbers would not mean a spike in harvesting of more horns.
Read more by the author: Much Ado About Nothing in Shakespearean Assam
Read more by the author: Modi headed for Shillong but nobody is sure why
Ironically, Kaziranga has the highest density and third-largest tiger population in India. Numbers are a bit of conservation mystery. For example, the recent euphoria about rising tiger numbers could just be a result of better enumeration methods. One would never know how many tigers we have lost or will lose. Every part of a tiger from its whisker to its claws is sold. India's tiger poaching figures for the first quarter of 2016 has been reported to be the highest in 15 years. However, the rhino may just benefit from the growing tiger population and the fund-raising to save the big cat.
Wildlife conservation is a holistic approach where the forest guards, officers, equipment, the law and community participation are as much integral as the animals themselves, whether it is a rhino or a tiger! Meanwhile, Mr. Modi can hope his love for the rhino will help his party once again in the election results next week!
Kishalay Bhattacharjee is a senior journalist and author. His most recent book is Blood on my Hands: Confessions of Staged Encounters (Harper Collins 2015). The views expressed here are his own.   
Last Updated Mar 31, 2018, 7:05 PM IST