When national badminton coach Pullela Gopichand arrived in Vijayawada on Tuesday along with Rio Olympics silver medalist PV Sindhu, he received an unusual request. Thrust into his hand was an application form for admission to the Pullela Gopichand Badminton Academy;  now that is not something new to Gopi, because parents often push for admission for their children.
But this one took him by surprise. The applicant's name was Nara Chandrababu Naidu. He had mentioned in the application form that he was prepared to appear for a selection trial the same day in Vijayawada.
Gopi agreed to watch Naidu's talent with the racquet, even though he realised that with a home crowd rooting for the chief minister, it would be an unfair advantage. To neutralise it, Gopi suggested that Sindhu would test the chief minister's skills by playing opposite him.
Naidu began poorly. He was initially unsure whether to serve like in badminton or in lawn tennis. Like Saina or like Sania. The pressure of connecting the racquet with the shuttle cock was enormous. Sindhu's presence on the other side of the court also seemed to unnerve Naidu. 
On the sidelines, Andhra Pradesh sports minister Atchan Naidu was getting agitated. "We should have invited YS Jaganmohan Reddy. If CM Sir saw Jagan on the other side, he would have smashed his way through the match and got admission easily,'' said Atchan Naidu.
After a few misses, Naidu finally got a rally going with Sindhu, and with it, admission into the Academy.
But there is a problem. Gopi's academy is located in Hyderabad, a city that Naidu visits only occasionally these days, even though it is still the common capital of Telangana and Andhra Pradesh. 
The new student, however, decided to make it easier by sponsoring 15 acres of land to build an academy in Amaravati. Gopi said this is the first time a student is arranging for his school. Naidu has said this will be a world-class academy and has promised to get experts from Singapore and Japan to design it. 
Before leaving Vijayawada, Gopichand however, asked Naidu to stay focused on the game. "I know you are disciplined and get up at 4 am and do yoga. You also have a lot of stamina. Since we have time before we start formal training, you could practise serving,'' said Gopi.
"Brother, you are thoroughly mistaken. I am serving since 1978. Except my sleeping hours, I am always serving my people. I am more interested in knowing how can I occupy the entire court, please teach me that. I do not want to leave an inch uncovered. I also want to request you not to give admission to YSR Congress applicants,'' asked Naidu. 
Telangana has reacted with anger at Naidu's attempt to go to `court'. "First he is not allowing us to bifurcate the Hyderabad High court and now he is setting up more courts in Amaravati. This is not fair,'' said a Telangana leader.
In order to be ready for Naidu acquiring a new skill, Telangana IT minister K T Rama Rao, has also applied to the Gopichand academy. Sources told Tenali Rama that this has created a rift in the cabinet with Telangana deputy chief minister Mahmood Ali unhappy with KTR's choice of academy. 
"Gopi is good as a coach but we need to find a better coach to train you so that you can win a gold medal, KTR,'' said Mahmood Ali.
Telangana CM K Chandrasekhar Rao has said KTR will soon challenge Naidu to a match. `"But the condition is that half the line referees should be from Telangana. There should be two match referees, one of them from Telangana. And if Naidu loses the match, he should move bag and baggage out of Hyderabad to Amaravati,'' said KCR.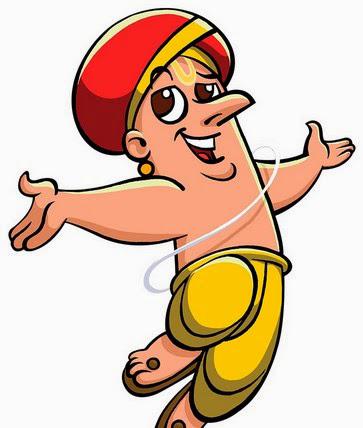 Tenali Rama is a satirical series by senior journalist T S Sudhir