The atmosphere was festive at St. Ann's Degree College for Women, Hyderabad on Friday. The girls and professors were in attendance to celebrate their student and India's Olympic hero, PV Sindhu's semi-final victory.
With the win, Sindhu already has a handful of records to her name. She became the first-ever Indian player to qualify for an Olympic final in badminton. India so far has four women Olympic medallists, all of them have won the bronze. Sindhu will India's first woman with either a silver or a gold medal around her neck on Friday night.
Yes, we Indians are desperate to hear our national anthem played out at Rio.
Sindhu has a special relationship with St Ann's. She's finished her higher secondary schooling and graduated from the college.  And now she will pursue an MBA from the same college.
The 'Annites' took a break from their usual routine as they put up banners and festoons to make Sindhu's victory a memorable day.
The 21-year-old shuttler is already an inspiration to her college mates. "Many girls want to represent the college in badminton, just because of Sindhu. She has influenced many students. Although they do not know the sport well, but they still want to play because of her. Initially, we were equipped with only 15-20 rackets but  we now have more than 200 because the number of girls who want to play the sport has been increasing with every passing year," Vimala Reddy, physical education director at St Ann's told Asianet Newsable.
Sindhu is someone who has successfully maintained a balance between her sporting career and academics.
"She is a person of few words. She lets her actions speak," academics dean at St. Ann's Smita Asthana said.
Some of her professors see a new side of Sindhu in her Olympic on-court manner. "The girl showed grip and determination in yesterday's match. In reality, she is just the opposite - extremely soft spoken, reserved and shy," Sunita Jacob, a physics professor, said about the Olympic finalist. 
Sindhu would come to college at odd hours, when other students had left, to catch up on the lessons that she had missed. "Despite her busy schedule and the limited time she could devote to her books, she secured  first class. Without a doubt, she's a bright student," Smita Asthana, the dean added.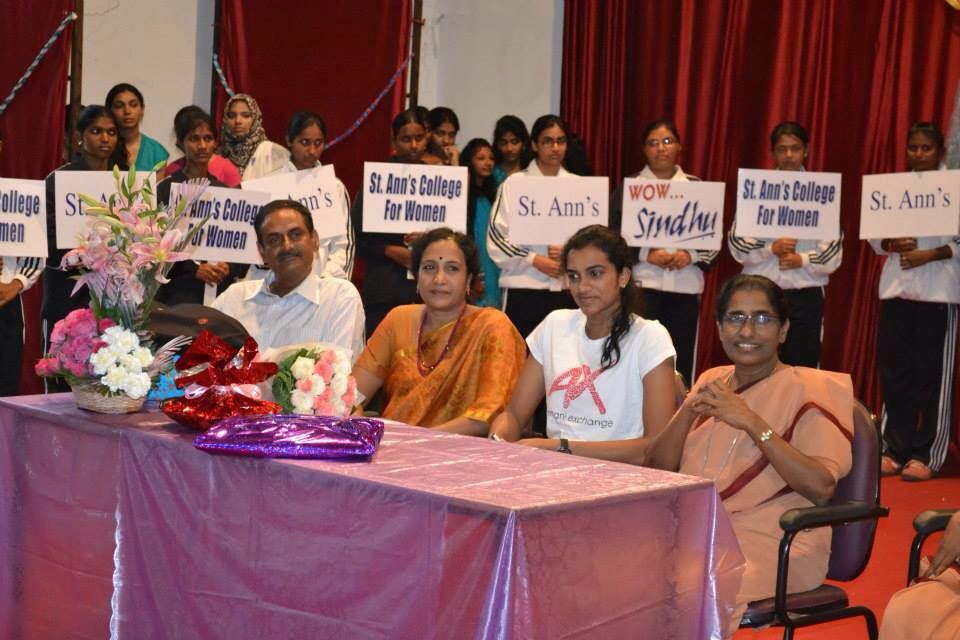 The credit here undoubtedly goes to her parents. What amazes her teachers is the fact that Sindhu's mother accompanied her to college and attended the extra classes that were conducted for her benefit.
"Sindhu's mother made parallel notes just so that she could help her later in case her daughter failed to pay attention at some point," Kavita NV, the head of the commerce department at St. Ann's said.
Last Updated 31, Mar 2018, 6:46 PM IST