PT Usha's protege Tintu Luka rises from the ashes
Name: Tintu Luka
Discipline: Athletics (Women's 800m)
Achievements:
Gold medal at the 2015 Asian Athletics Championships in Wuhan
Silver medal at the 2014 Asian Games at Incheon
Bronze medal at the 2010 Asian Games at Guangzhou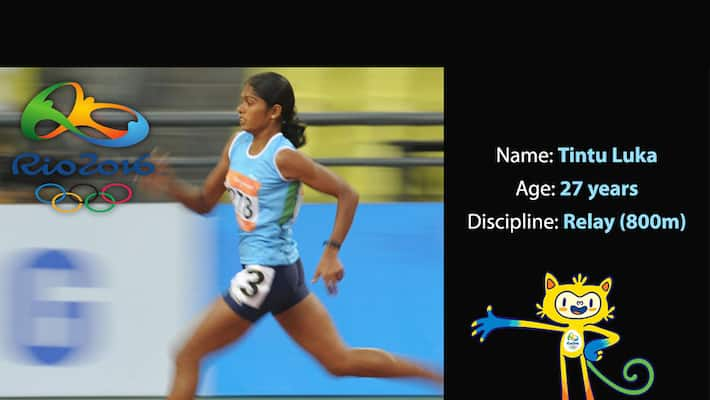 Born in Valathode, a small village in Kannur district to a family of athletes, hard work and determination came naturally to Tintu Luka, India's only representative in the Women's 800m category at the summer Olympics this year.
Her mother Lissy who was a state-level long jumper made sure her daughter received the necessary training to become an outstanding sprinter right from childhood.
After completing her education from St Thomas High School in Karikkottakary, Kerala Tintu joined the PT Usha School of Athletics at Koyilandy in 2001.
Luka has been on a winning streak at the Asian Games and the Asian Championships since 2008, winning a total of five medals in the 800m event through the course of her career.
In 2010, she made headlines when she broke Shiny Wilson's 15-year-old national record in the women's 800m at the Continental Cup in Croatia where she clocked 1:59:17. This was followed by a silver medal finish at the Junior Asian Athletics Championships.
Right after her stellar performance in Croatia, however, her career began to spiral; she failed to perform at the 2010 Commonwealth Games and the 2012 London Olympics.
It was then that PT Usha started taking a special interest in this aspiring athlete. She has been personally training her day and night since to improve her performance so that she could make her country proud all over again.
"I want her to win the medal. But, I am not going to predict that she would do so. Firstly, she lacks international exposure. On top of that, these days, an athlete has to be mindful of various other aspects such as banned substances, dope tests etc. All of these would have to be factored in. We try to keep her free from stress. We do not talk about Olympic medals with her," Usha told Firstpost.
Usha who lost the medal at the 1984 Olympics wants Tintu to put an end to this long wait and bring home a gold medal.
Last Updated Mar 31, 2018, 6:32 PM IST