AP-Telangana crossfire dims Sindhu's Olympic glory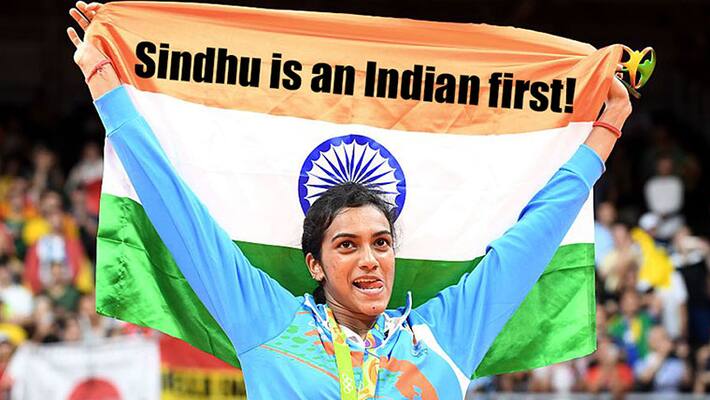 A person takes up sports as a full-time career only with one aim -- playing for the country. An Indian athlete's national career might begin with playing for their state, but the ultimate goal is always representing the country some day.
While our athletes are proud of playing for a unanimous India, our politicians only seem to be worried about their own state, stealing credit from a national champion. Indian athletes are almost always forced to bear the cost of training and nourishment on their own. Where were these state governments when cash-strapped athletes begged for funds to train?
Nonetheless, the tug of war between the two rival southern states, Andhra Pradesh and Telangana, to take credit for PV Sindhu's silver medal at the Rio Olympics demonstrates just how small minded our country's politicians are.
It's not just politicians, the media too seems to be playing into the hands of these glory hunting politicians, providing them with a platform to showcase their petty squabbles.
The media erupted with questions about which state Sindhu represented as soon as she returned from Rio. The national badminton coach was quick enough to lay the debate to rest at the airport itself with this curt reply,
"She 'belongs' to India."
Remember Shahrukh Khan's speech in the movie, Chak de India, a popular Bollywood movie based on women's hockey? Khan, who played the role India's hockey team coach admonished players who introduced themselves as state players saying they can only be India's athletes. 
While Chak de India may have been just another commercial movie, this particular scene speaks volumes of India's 'divided unity'.
A national athlete can neither be an Andhrite, Punjabi, Gujarati or Keralite but an Indian who wears their tricolour with pride.
Hyderabad, which is now the capital of Telangana, greeted Sindhu and her coach Gopichand with much pomp and show. After it's grand welcome at the international airport, the duo was taken in an open-top-motorcade. There was an enormous crowd gathered along the roads to witness the procession that ended at the Gachibowli stadium where they were felicitated by the Telangana ministers.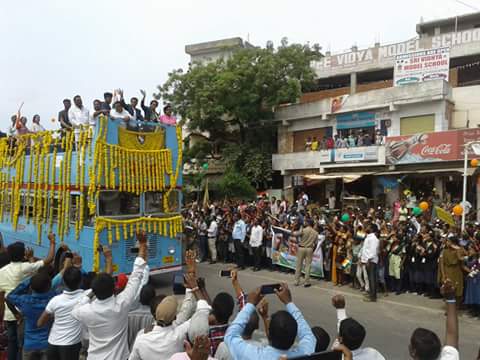 After a festive welcome from Hyderabad on Monday, she headed to Vijaywada the next day as Andhra Pradesh too wished to host a felicitation ceremony for the 21-year-old sensation. To outdo Telangana, the AP government made sure that at least one lakh people participated in their victory rally for Sindhu.
To add fuel to an already blazing fire, media houses came up with headlines like "After Telangana, Andhra gives Sindhu, Gopichand a grand welcome."
While politicians in Telangana claimed Sindhu was theirs because she was born and brought up in Hyderabad and her father is from Telangana; Andhra Pradesh countered claiming that her mother is from Vijayawada so she was theirs.
Luckily for Sindhu, the two state governments also tried to outclass each other with their cash prize for the silver medal finish. Andhra first announced a ₹ 3 crore cash reward and a government job for the shuttler  and Telangana in a bid to up the ante handed her a ₹ 5 crore cheque.
How difficult is it to remember, Sindhu represented India at the Rio Olympics and not Andhra or Telangana?
India managed to win just two medals at the games this year. The fact that it was two women who saved India's honour at the world stage manifests Sindhu's achievement.
Dragging her into an Andhra-Telangana glory hunting fight is nothing but an insult to her achievement. 
Leave her alone, let her flourish for India and not succumb to the petty politics!
Last Updated Mar 31, 2018, 6:47 PM IST