BK Hariprasad's dinner politics: Top Congressmen flock to Palace Grounds; Baig and others likely to miss out on Bengaluru Central seat
Amidst efforts from the Congress leaders like Rizwan Arshad, Roshan Baig, Saleem Ahmed and others to get the Bengaluru Central Lok Sabha ticket, BK Hariprasad's entry by hosting a gala dinner was enough to send signals that he would probably end up as the party's choice to taken on BJP's PC Mohan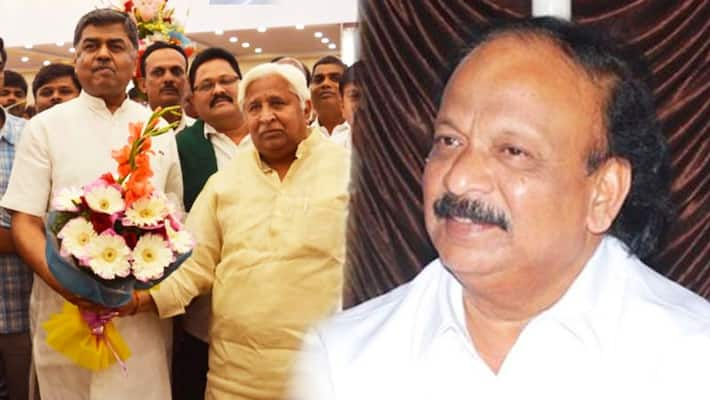 Bengaluru: Senior Congress leader BK Hariprasad's dinner politics has been a big hit with several partymen including ministers attending the gala dinner party at Palace Grounds on Wednesday.
Hariprasad, who is eyeing the Congress Lok Sabha ticket from Bengaluru Central constituency, hosted a dinner party to send out a strong message to the high command. And it looks like he has succeeded.
Top Congress leaders like ministers DK Shivakumar and KJ George, MLAs HK Patil, Ramalinga Reddy, Sowmya Reddy, NA Harris, Byrathi brothers -  Suresh and Basavaraj, Munirathna Naidu, Eshwar Khandre, and Bangalore Development Authority (BDA) chairman and Yeshwantpur MLA ST Somashekar, graced the occasion.
Interestingly, former minister and seven-time MLA Roshan Baig, who too is eyeing the Bengaluru Central seat from the Congress, greeted Hariprasad at the event.
Talking to Asianet Newsable, Hariprasad said, "The leaders came here to show the Congress party's unity and Baig is also one among the influential forces. He too attended. Like me others also make efforts, ultimately it is the party that decides and selects the candidates (for Lok Sabha polls)," said Hariprasad.
Hariprasad claimed that the last 10 years have seen no significant projects for Bengaluru from the Central government and BJP's Bengaluru Central MP PC Mohan has failed significantly. Similarly, the  MP's representing North and South Bengaluru have not done enough to Bengaluru.
"It was only during CK Jaffer's time that the railway projects for India, railwheel factory and a hanging bridge in KR Puram came," he opined.
According to sources, the Congress is planning to field a non-minority candidate from Bengaluru Central and Hariprasad being an Ediga, holding command over leaders in Bengaluru and his brother a former policeman BK Shivaram making a name in Bengaluru circles, especially in Rajajinagar, and dominant community segments of western parts of the city, Hariprasad can give a tough fight to BJP.
"Chamarajpet, Shivajinagar, Shanthinagar, Sarvajnanagar, and Gandhinagar being a Muslim, Christian and linguistic dominated segments, the Congress may gain votes. The efforts in SC reserved segments like Mahadevpura, CV Ramannagar and Vokkaliga and others dominated areas, can ensure results to the Congress candidates," said a source close from the grand old party.
The source further added that the Congress anyways has its vote bank like Muslims and Christians. By giving the ticket to the candidate from the non-minority community will bring votes from other segments too.
Baig said, "Like me, even Hariprasad is also a respected leader and it is his right to make efforts. The assembling of leaders was to show strength. Our ultimate goal is to defeat the BJP which has the problem with people's lifestyle, culture, food habits and everything."
After watching the Congress's dinner politics, the BJP felt that it will work in its favour. As more leaders stake claim to contest from three MP seats from Bengaluru, BJP sees it as an opportunity.
"We are not bothered about any candidates from the Congress or JD(S) as more leaders are coming out in the open to contest from both the parties. The dissidence activity will be more and we will win," said S Prakash, BJP spokesperson.
In 2014, BJP's Mohan got 557,130 votes (11.69% higher than the Congress). The Congress candidate Rizwan Arshad, secured 419,630 votes and the JD(S) candidate Nandini Alva got only 39,869 votes.
The Bengaluru Central Lok Sabha constituency has a total of about 14 lakh voters, with the BJP having a stronghold. There are eight Assembly constituencies of the Bangalore Central Parliamentary constituency, out of which CV Raman Nagar and Mahadevapura are reserved for candidates belonging to the Scheduled Castes. Both these Assembly segments are retained by the BJP candidates.
Last Updated Feb 14, 2019, 6:14 PM IST