Roshan Baig to launch son Ruman as MLC from BJP?
With former minister and senior politician R Roshan Baig suspended from Congress after dissenting, sources said that he will either help BJP candidate Katta Subramanya Naidu or contest as an independent with BJP support and make way for his son Ruman Baig as MLC from BJP.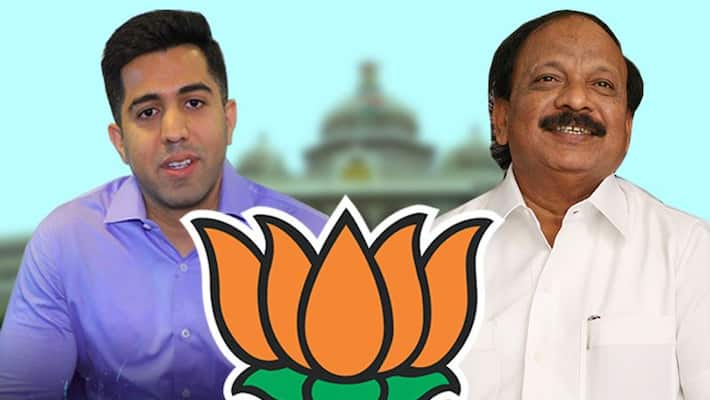 Bengaluru: With by-election to 17 assembly segments in Karnataka around the corner after many legislators from the Congress and JD(S) resigned during HD Kumaraswamy's tenure as chief minister, former Congress leader R Roshan Baig is contemplating negotiating an MLC post with the BJP for his son Ruman Baig. Roshan Baig will support Katta Subramanya Naidu to win from Shivajinagar constituency.
Speaking exclusively to Asianet Newsable, Ruman Baig said, "It is definitely possible that I can become an MLC from BJP. It is time that Muslims make a wise decision.  Muslims are beginning to believe that it is not wrong to align with the BJP. It is not that we are going to sell our religion, it is just that we will be associated with a political party and nothing more than that."
Since Roshan Baig's case of disqualification is being heard in the Supreme Court along with other MLAs who were disqualified by former Speaker Ramesh Kumar, there could be a possibility of Ruman Baig contesting in place of his father. When asked about which party he or his father would contest as Congress will not entertain them anymore, Ruman said, since BJP has instructed Katta Subramanya Naidu to concentrate on the Hebbal Assembly for the next election, either his father, if cleared by the Supreme Court, or he will fight from Shivajinagar as an independent or with BJP support.
"The fight from Shivajinagar Assembly byelection will be like the recent Mandya Lok Sabha election where the independent fought and won with BJP support. In Congress, Muslims cannot prosper. Congress is finished and it is only by the BJP that minorities' interests can be guarded," added Ruman.
Echoing similar sentiments, BJP leader and spokesperson TS Chandrashekar said, Congress sidelined Baig and used Muslims as a mere vote bank. The vote bank and divide and rule strategy of the Congress is now exposed. Now Modi's 'one nation' policy has dawned on senior Baig.
"If he wants to join the BJP, he should accept BJP's ideology. Then he is welcome. It will be good for his own growth," said Chandrashekar.
When asked about Congress' allegations of Baig's involvement in the IMA scam, Chandrasekhar said, "It is left to the party high command to make the decision to either induct him into the BJP or not."
 
Last Updated Aug 27, 2019, 5:18 PM IST