Nikhil Kumaraswamy gets set for his next film ahead of Lok Sabha election results
Nikhil Kumaraswamy, ahead of the Lok Sabha election results, prepares for his next project. The actor-politician is believed to be working with the makers of 2.0 and Indian 2.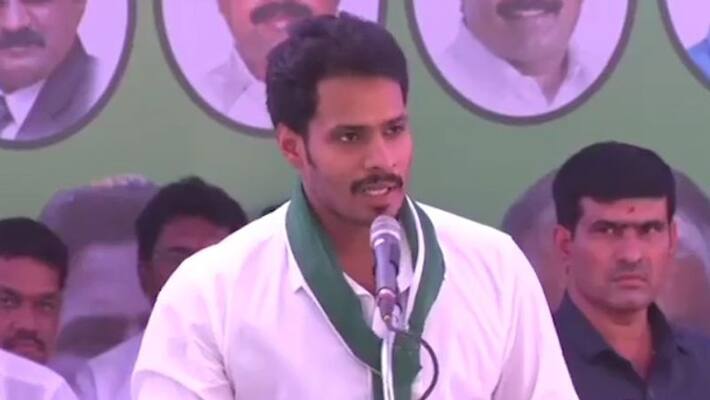 Bengaluru: Karnataka chief minister HD Kumaraswamy's son Nikhil Kumaraswamy has had a busy schedule, as he was campaigning for the Lok Sabha election in Karnataka. Now that election in the state is over and the candidates are waiting eagerly for the results, Nikhil has decided to get back to working on his next project.
Ending all speculations about the actor quitting his career in the film industry after taking the political plunge, the Seetharama Kalyana actor said that he is now headed to London to commence the pre-production work for his next film. "I am definitely doing my next film now. This is with the makers of 2.0 and Indian 2. I will meet the members of the production in London. The film will take off in four or five months. We had an initial announcement during the audio launch of the film Seetharama Kalyana. Now, we will finalise the other details about the upcoming film."
Lok Sabha election in Karnataka took place on April 18 in Mandya district and actor-turned-politician Nikhil Kumaraswamy contested the battle against independent candidate Sumalatha Ambareesh, who is supported by the BJP. Sumalatha is the widow of actor-politician Ambareesh, who hailed from the Congress. According to the seat-sharing agreement between the coalition partners of the ruling government in the state, the Mandya seat went to the JD(S), which decided to field Nikhil. Sumalatha, who originally wanted a Congress ticket, decided to fight the election as an independent.
Following this, Nikhil Ellidiyappa ( where are you Nikhil in Kannada) turned out to be one of the most celebrated phrases that flooded the social media during the election in the state. Originally, the phrase was uttered by Kumaraswamy in 2016 during the music launch of a Sandalwood film. And this popular phrase was used to troll Nikhil.
Lok Sabha election results will be announced on May 23.
Last Updated May 14, 2019, 1:45 PM IST