Controversial steel grade separator cost escalates by Rs 10 crore due to BBMP's lax attitude
The controversial steel grade separator at Shivanada Circle in west Bengaluru will add burden on the taxpayers as the BBMP has added another Rs 10 crore for the project. The project's original cost was Rs 50 crore and as the project is set to get delayed, it will add more misery to commuters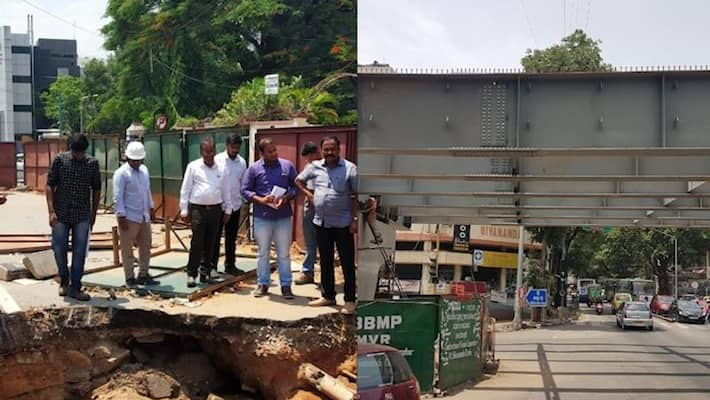 Bengaluru: The Bruhat Bengaluru Mahanagara Palike (BBMP) which is known for taking up controversial projects, delaying and also wasting money, has once again been mired in controversy. The latest is that of delaying the steel grade separator by 10 months, which has resulted in an increase of estimated cost by Rs 10 crore.
To ease the traffic at Shivananda Circe in west Bengaluru, the BBMP floated a tender and mentioned that the steel grade separator will be built and completed by February but the Public Interest Litigation (PIL) on the slope and height project delayed it.
Further, the Bengaluru Water Supply and Sewage Board (BWSSB) and Bengaluru Electricity Supply Company (BESCOM) delayed in identifying pipes and cables and denial of permission from Bengaluru Traffic Police (BTP) department further delayed the project.
The total length of the separator is 783.308 square meters and it was supposed to be completed in February, the date was further revised to August and now the officials say the project will be completed only in December.
"The slope was 6.5 metre high. The separator will start from Race Course and end at 50 metre away from the Shivananda Circle Railway under bridge. The separator has 16 pillars and so far we have completed only eight. Initially, the estimated cost was Rs 50 crore and since it was delayed, the cost has been revised to Rs 60 crore," said KT Nagaraj, chief engineer, BBMP Projects Department.
Lashing out the BBMP for its lackadaisical attitude, NR Suresh, director, Namma Bengaluru Foundation (NBF), said, "The steel bridge was scrapped after many projects still the BBMP has not learnt. Now, it is on the verge of completing steel grade separator. The project cost has been escalated by Rs 10 crore. The delay will add to the chaos. Commuters travelling will suffer on this road. A boy drowned two years ago near Shivanada Circle and with heavy rains expected from June to September, there could be a danger due to water logging as the work is going on."
Last Updated May 13, 2019, 12:59 PM IST