Classes begin in IMA-run Bengaluru school; Child Rights Commission appoints 21 teachers
After teachers refrained from taking classes in IMA-run VKO school in Bengaluru, the Karnataka State Commission for Protection of Child Rights appointed 21 teachers to commence classes in the institution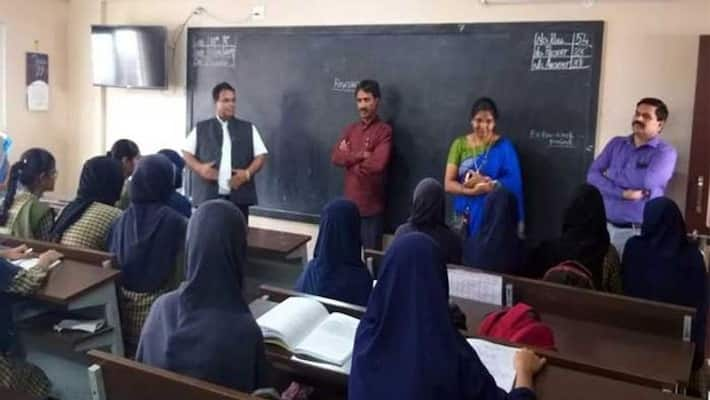 Bengaluru: VK Obaidullah School that was run by the "fraudulent I Monetary Advisory (IMA) company" was closed as soon as news of the IMA scam broke and owner Mansoor Khan fled. The future of nearly 1000 students of the institution was at stake when teachers refrained from taking classes. However, the Karnataka State Commission for Protection of Child Rights took immediate action and appointed 21 teachers and classes have commenced in the school.
IMA owner Mohammed Mansoor Khan had adopted the government-run VK Obaidullah school in 2016. He spent around Rs 16 crore and renovated the school. The school reopened in June 2017.
During the inauguration, then chief minister Siddaramaiah had said that it was a dream project of Shivajinagar MLA Roshan Baig.
However, reports state that students would be admitted in the school on the condition that their parents invest in the company, and even teachers would gain employment on the basis of their investments in IMA.
State Commission for Protection of Child Rights president Dr Antony Sebastian visited the school on Thursday to assess the situation and appointed 21 new teachers. He directed Bengaluru North Zone deputy director (Administration) Block Education officer to address the issue and have classes conducted as soon as possible.
After adopting the school, IMA had been paying salaries to teachers. The teachers were asked to take a temporarily holiday after news of the IMA scam broke. It was not clear as to who will pay teachers' salaries. Students who attended class were left clueless as no teacher was present to conduct class.
Former president of the child rights commission Y Mariswamy, Bengaluru North Block Education officer Prabha Alexander, deputy director of public officer Jayaranga and other officials were present during Sebastian's visit to the school.
Last Updated Jun 14, 2019, 11:57 AM IST