Bengaluru Police solve 10 cases after arrest of three thieves
Hebbal police nabbed three culprits involved in chain-snatching, cheating and daylight robbery on Monday and recovered 175 grams of gold worth Rs 9.5 lakhs and four two-wheelers. With this arrest, the police have solved 10 cases.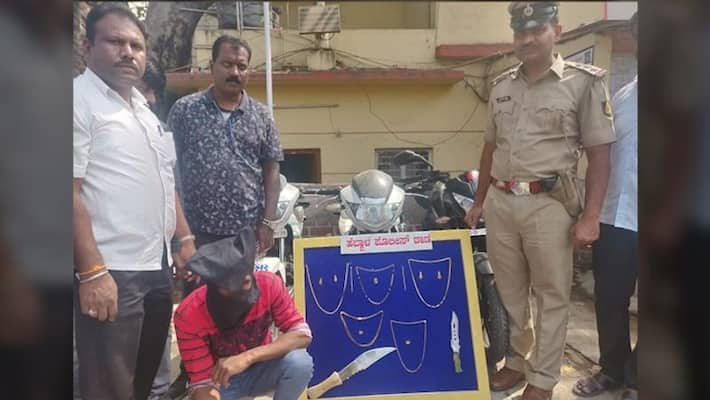 Bengaluru: The city police arrested a group of muggers and recovered Rs 9.5 lakh worth gold from them and also seized four two-wheelers.
Chain snatching cases that had sent shivers down the spines of morning walkers, pedestrians and temple visitors, had once again surfaced at Hebbal police limits of January 22. 
According to Hebbal police, victim Shankari M was waiting to board an auto near Sultanpalaya at 6am on January 22, when three men on two bikes wielding a knife stopped her. The accused persons had covered their faces. They threatened the victim with dire consequences if she raised an alarm. The culprits snatched her gold chain from her neck and sped away.
Following the incident, a complaint was filed at Hebbal police station. Hebbal police station personnel who initiated the probe, caught the accused with help from other police stations and CCTV footage.
"One of the accused persons was arrested initially. Upon interrogation he revealed the names of the other two. The three accused are Saif from Nagavara, Ali from Hegde Nagar and Rasool from Govindpur. The accused are also wanted in criminal cases in Nandini Layout, Jalahalli and HAL police limits. Several chain-snatching, cheating and daylight robbery cases have been solved with their arrest," said a senior officer of Hebbal Police.
Last Updated Feb 12, 2019, 10:56 AM IST