Artwork and traditional paintings to welcome passengers at Bengaluru railway station
The Krantiveera Sangolli Rayanna Railway Station in Bengaluru has started exhibiting artwork like Ganjifa, Chittara art, Vorli, Tanjore art and Kalamkari art that will give a dose of history of Karnataka and South India for passengers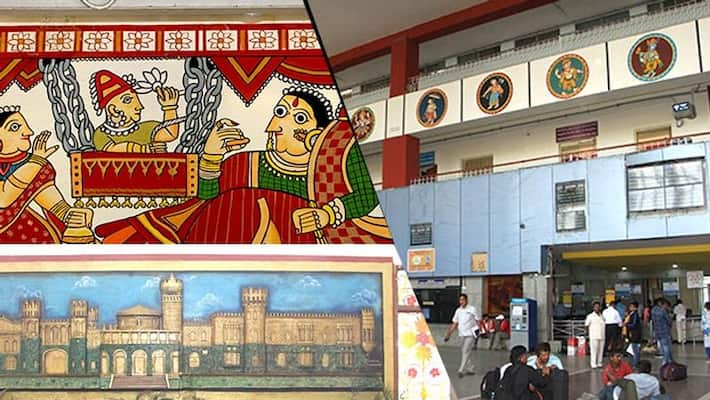 Bengaluru: Next time when you walk into the Krantiveera Sangolli Rayanna Bengaluru City Railway Station you will be thrown open to splendid artwork like Ganjifa, Chittara art, Vorli, Tanjore art and Kalamkari art which will give you a dose of history of Karnataka and South India. This work is done based on the policy direction issued by the railway ministry to beautify railway stations with local art using local artists.
Local art and culture of Karnataka and South India have been depicted on walls and pillars of the KSR railway station. Rare Mysore Ganjifa art and Chittara art of Uttara Kannada District are displayed in the main concourse area.
"Life and activities of Rural Karnataka are beautifully painted in Chittara art. Passengers can catch traditional puppetry art on the walls of platform-1. Life and culture of North Karnataka flow through this art. Air-conditioned waiting hall is painted with various traditional dance forms of Karnataka. Three-dimensional murals of Bangalore Palace installed in the Main concourse attract the people and special focus lighting is arranged for this," said an official from the railway department.
Sumangala Bhat, a local artist who runs Srishti Arts is involved in this project along with other local artists. The Bangalore Division has also involved local NGOs and corporates in this beautification activity. Jubilant Food works under its Corporate Social Responsibility has painted the sub-way with Vorli, Chittara and other local art. Similarly, the station wall in the circulating area is painted with Kalamkari art form.
Traditional Tanjore art form of South India is also displayed. These beautification activities will help passengers to get a pleasant feeling when they spend time at the railway station. They will be aware of the rich local art and culture. This will also help in boosting tourism. Similar beautification works have been carried out in other stations like Bangalore Cantonment, Hindupur and Ramanagaram as well.
Last Updated Feb 27, 2019, 9:24 AM IST