Iran ultraconservative 'champion of the poor' Ebrahim Raisi elected as next president
Ebrahim Raisi, 60, takes over from Hassan Rouhani in August as Iran seeks to salvage its tattered nuclear deal with major powers and free itself from punishing US sanctions that have driven a sharp economic downturn.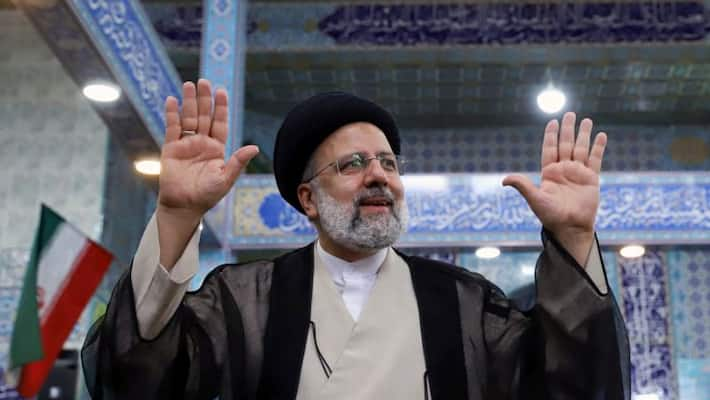 Ultraconservative cleric Ebrahim Raisi was declared the winner Saturday of Iran's presidential election, a widely anticipated result after many political heavyweights were barred from running.
Dressed in a black turban and cleric's coat, Iranian ultraconservative Ebrahim Raisi casts himself as an austere and pious figure and a corruption-fighting champion of the poor.
On Saturday the 60-year-old was named the winner of the Islamic republic's presidential election, set to take over from moderate Hassan Rouhani in August.
Raisi won 62% of the vote with about 90% of ballots counted from Friday's election, poll officials said, without releasing turnout figures, after the three other candidates had conceded defeat.
"I congratulate the people on their choice," said outgoing moderate President Hassan Rouhani, who has served the maximum of two consecutive four-year terms and leaves office in August.
Critics charge the election was skewed in his favour as strong rivals were disqualified, but to his loyal supporters he is Iran's best hope for standing up to the West and bringing relief from a deep economic crisis.
Raisi is not renowned for great charisma but, as head of the judiciary, has driven a popular campaign to prosecute corrupt officials.
The head of the Iranian judiciary, whose black turban signifies direct descent from Islam's Prophet Mohammed, Raisi is seen as close to the 81-year-old supreme leader, Ayatollah Ali Khamenei, who has ultimate political power in Iran.
Friday's voting was extended by two hours past the original midnight deadline amid fears of a low turnout of 50% or less.
Many voters chose to stay away after the field of some 600 hopefuls including 40 women had been winnowed down to seven candidates, all men, excluding an ex-president and a former parliament speaker.
Three of the vetted candidates dropped out of the race two days before Friday's election.
Student of the guide
Born in 1960 in the holy city of Mashhad in northeastern Iran, Raisi rose to high office as a young man.
Aged just 20, in the wake of the 1979 Islamic Revolution that toppled the US-backed monarchy, Raisi was named prosecutor-general of Karaj, which neighbours Tehran.
For the exiled opposition and rights groups, his name is indelibly associated with the mass executions of Marxists and other leftists in 1988, when he was deputy prosecutor of the Revolutionary Court in Tehran.
Asked in 2018 and again last year about the executions, Raisi denied playing a role, even as he lauded an order he said was handed down by the Islamic republic's founder Ayatollah Ruhollah Khomeini to proceed with the purge.
In 2019, the US placed Raisi and others on a sanctions list citing the executions and other alleged rights abuses -- charges Tehran dismissed as symbolic.
Raisi has decades of judicial experience, serving as Tehran's prosecutor-general from 1989 to 1994, deputy chief of the Judicial Authority for a decade from 2004, and then national prosecutor-general in 2014.
'Maximum pressure'
Ultimate power in Iran, since its 1979 revolution toppled the US-backed monarchy, rests with the supreme leader, but the president wields major influence in areas from industrial policy to foreign affairs.
Rouhani's landmark achievement was the 2015 deal with world powers under which Iran agreed to limit its nuclear programme in return for sanctions relief.
But high hopes for greater prosperity were crushed in 2018 when then-president Donald Trump withdrew the United States from the accord and launched a "maximum pressure" campaign against Iran.
While Iran has always denied seeking a nuclear weapon, Trump charged it was still planning to build the bomb and destabilising the Middle East through proxy groups in Iraq, Lebanon, Syria and Yemen.
As old and new US sanctions hit Iran, trade dried up and foreign companies bolted. The economy nosedived and spiralling prices fuelled repeated bouts of social unrest which were put down by security forces.
Iran's ultraconservative camp -- which deeply distrusts the United States, labelled the "Great Satan" or the "Global Arrogance" in the Islamic republic -- attacked Rouhani over the failing deal.
Despite this, Iran's senior political figures, including Raisi, have voiced broad agreement that the country must seek an end to the US sanctions in ongoing talks in Vienna aimed at rescuing the nuclear accord.
(With inputs from agency) 
NOTE: Asianet News humbly requests everyone to wear masks, sanitize, maintain social distancing and get vaccinated as soon as eligible. Together we can and will break the chain #ANCares #IndiaFightsCorona  
Last Updated Jun 19, 2021, 6:35 PM IST