WORLD TOURISM DAY: 7 BEST LAKES TO VISIT IN INDIA
India boasts a diverse landscape, and its lakes are some of the most picturesque and serene in the world. Celebrate World Tourism Day by exploring these seven beautiful lakes in India: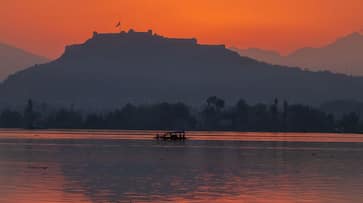 Each of these lakes offers a distinct experience, from high-altitude mountain lakes to serene coastal lagoons. Whether you're seeking natural beauty, cultural immersion, or spiritual significance, India's lakes have something to offer every traveller on World Tourism Day.
Dal Lake, Jammu and Kashmir:

Located in Srinagar, Dal Lake is famous for its iconic houseboats and shikara rides.
Enjoy the tranquility of the lake, visit Mughal gardens, and experience the unique floating vegetable gardens.

Chilika Lake, Odisha:

Chilika is the largest coastal lagoon in India and a haven for birdwatchers and nature enthusiasts.
Explore the rich biodiversity of the lake, spot migratory birds, and take a boat ride to visit Kalijai Island.

Pangong Lake, Ladakh, Jammu and Kashmir:

This high-altitude lake is renowned for its stunning blue waters and dramatic mountain backdrop.
Visit the famous '3 Idiots' movie shooting location and camp by the lakeside for a surreal experience.

Vembanad, Kerala:

Vembanad is the longest lake in India and a prominent feature of the Kerala backwaters.
Enjoy a houseboat cruise, witness the unique ecosystem, and savor traditional Kerala cuisine.

Pushkar Lake, Rajasthan:

Pushkar Lake is a sacred Hindu pilgrimage site surrounded by 52 ghats and numerous temples.
Visit the Brahma Temple and experience the vibrant Pushkar Camel Fair held annually.

Gurudongmar Lake, Sikkim:

Located at an elevation of over 17,000 feet, Gurudongmar Lake is one of the highest lakes in the world.
Marvel at the pristine beauty of the lake and the surrounding snow-capped peaks.

Loktak Lake, Manipur:

Loktak is known for its unique floating islands called "phumdis" and the Keibul Lamjao National Park, the last natural refuge of the endangered Manipur brow-antlered deer.
Explore the park, take a boat ride, and witness the vibrant culture of Manipur.
Last Updated Sep 25, 2023, 7:30 AM IST