World Tourism Day 2023: 12 ultimate road trip hacks for an unforgettable journey
Ahead of World Tourism Day 2023, here's a look at 12 ultimate road trip hacks that will make you better equipped to navigate challenges and make the most of every mile on the open road.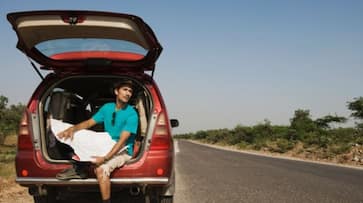 Embarking on a road trip is a thrilling adventure that promises freedom, exploration, and unforgettable memories. However, long hours on the road can also come with their challenges. To ensure a smooth and enjoyable journey, it's essential to be well-prepared and armed with road trip hacks that will make your adventure even more memorable. In this article, we'll share the ultimate road trip hacks to help you have an unforgettable journey.
Plan Your Route: Before hitting the road, plan your route thoroughly. Use GPS apps like Google Maps or Waze to find the fastest and most scenic routes. Take into account road conditions, rest stops, and interesting attractions along the way.

Prepare a Road Trip Playlist: Create a road trip playlist with your favorite tunes. Music sets the mood for your journey and can make the miles fly by. Don't forget to download your playlist for offline use in case you encounter areas with poor cell reception.

Pack Snacks and a Cooler: Save time and money by packing a cooler with drinks and snacks. Include a variety of options like granola bars, fruit, and sandwiches to keep hunger at bay. Having snacks readily available reduces the need for frequent stops.

Stay Hydrated: Bring a reusable water bottle and stay hydrated throughout the trip. Dehydration can lead to fatigue, so make it a habit to sip water regularly, especially during hot weather.

Essential Car Kit: Create a car kit that includes essentials like a first-aid kit, flashlight, jumper cables, tire pressure gauge, and basic tools. Being prepared for emergencies ensures a safer journey.

Pack Light and Smart: Avoid overpacking by choosing versatile clothing and packing outfits that can mix and match. Roll your clothes to save space and keep them wrinkle-free. Use packing cubes to stay organized.

Download Roadside Assistance Apps: Download roadside assistance apps such as AAA or Urgent.ly. These apps can help you quickly find assistance if your vehicle breaks down or if you encounter any road-related issues.

Entertainment for Passengers: Keep passengers entertained with books, audiobooks, movies, or handheld gaming devices. Travel games like "I Spy" and "20 Questions" can also make the journey more enjoyable.

Use Travel Apps: Utilize travel apps to find nearby attractions, restaurants, and accommodations. Apps like Yelp, TripAdvisor, and Airbnb can provide valuable recommendations based on your location.

Take Scenic Detours: Don't be afraid to take scenic detours and explore unexpected places along the way. Some of the most memorable road trip moments come from spontaneous adventures and discoveries.

Capture Memories: Bring a camera or smartphone to capture the beautiful landscapes and unique experiences during your journey. Create a travel journal to document your road trip and relive the memories later.

Stay Flexible: While planning is crucial, leave room for flexibility in your schedule. Unexpected detours or extended stops at intriguing places can lead to some of the most memorable moments of your road trip.
A well-planned road trip can be an incredible adventure filled with excitement and unforgettable moments. By incorporating these ultimate road trip hacks into your journey, you'll be better equipped to navigate challenges and make the most of every mile on the open road. So, gear up, hit the road, and embark on an unforgettable adventure that will leave you with stories to tell for years to come.
Last Updated Sep 25, 2023, 11:18 AM IST