World Animal Day 2023: Day, history, theme and significance
World Animal Day 2023, themed 'Great or Small, Love Them All,' honors animal welfare, St. Francis, and biodiversity. It highlights love and respect for all creatures, emphasizing our role in their protection and the planet's well-being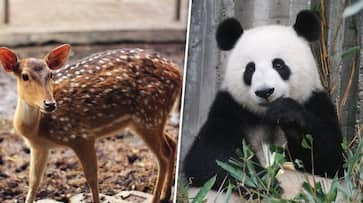 World Animal Day is a global celebration of animals, a day when we come together to recognize and appreciate the incredible diversity of species that share our planet. Each year on October 4th, people from all walks of life unite to raise awareness about animal welfare, advocate for their protection, and celebrate the profound connection between humans and animals. In 2023, the theme for World Animal Day is 'Great or Small, Love Them All,' emphasizing the importance of loving and caring for all creatures, regardless of their size or species.
History
The history of World Animal Day dates back to 1925 when it was established at a congress of ecologists in Florence, Italy. It was originally proposed by Heinrich Zimmermann, the German writer and publisher of the magazine 'Man and Nature.' October 4th was chosen as the date to coincide with the Feast of St. Francis of Assisi, the patron saint of animals and the environment. St. Francis, known for his deep love and compassion for all living beings, serves as an inspiration for the compassionate treatment of animals worldwide.
ALSO READ: Here's how you can manage your stress and keep cardiovascular diseases at bay
Significance
World Animal Day holds immense significance in today's world, as it provides an opportunity to address critical issues related to animal welfare and conservation. It serves as a platform for organizations, activists, and individuals to highlight the challenges faced by animals, including habitat loss, poaching, climate change, and cruelty.
Moreover, it encourages people to reflect on their own relationship with animals, promoting kindness, respect, and responsible pet ownership. This day also fosters education about the role animals play in our ecosystems and the importance of preserving biodiversity.
Theme:
'Great or Small, Love Them All': The theme for World Animal Day 2023, 'Great or Small, Love Them All,' conveys a powerful message. It reminds us that all animals, regardless of their size or species, deserve our love, care, and protection. Whether it's the majestic elephants of Africa, the playful dolphins in the oceans, or the tiny insects that pollinate our crops, every creature has a role in maintaining the delicate balance of our planet's ecosystems.
This theme encourages us to recognize the intrinsic value of every living being and the interconnectedness of all life on Earth. It urges us to stand against animal cruelty, habitat destruction, and species extinction. By loving and respecting all animals, we not only ensure their survival but also contribute to a healthier, more harmonious world for future generations.
World Animal Day is a day to celebrate, advocate, and act in favor of animals. The 2023 theme, 'Great or Small, Love Them All,' reminds us of our responsibility to protect and cherish every creature that shares our planet. Let us embrace this theme and work together to create a world where animals are treated with the love and respect they deserve.
Last Updated Oct 4, 2023, 7:00 AM IST