Rasmalai and Kaju Katli added in the World's Top Desserts list
Rasmalai is ranked 31st, and Kaju Katli is placed 41st.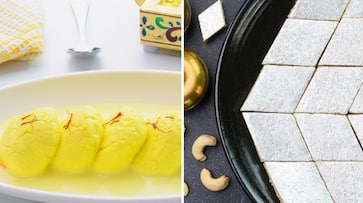 Two Indian desserts, phirni, and kheer, were recently rated among the world's ten best puddings. Taste Atlas, a popular culinary and travel guide, announced the rankings. Sweet desserts abound in Indian cuisine, and each region has its unique specialties to offer. As a result, it should come as no surprise that two other forms of Indian mithai have gained international acclaim. TasteAtlas recently published a new list, this time for the "50 Best Desserts In The World." It offered sweets from various parts of the world, including India.
The list was topped by a beloved classic that many of us have heard of French crepes. The Brazilian Bombocado (a special coconut-flavored pastry), Peruvian Queso helado (similar to ice cream), and Italian tiramisu followed. France also has two additional entries in the top ten: creme brulee (5th) and souffle au chocolat (9th). Baklava is ranked 27th, while brownies and chocolate chip cookies are ranked 49th and 50th, respectively.
Rasmalai is ranked 31st, and Kaju Katli is placed 41st. "Ras malai is of West Bengali origins and is sometimes described as a rich cheesecake without a crust," according to the official website. The dessert's name is a mixture of two Hindi words: ras, which means juice, and malai, which means cream." Rasmalai and kaju katli are especially popular during festivals such as Diwali and Holi. Taste Atlas describes Kaju Katli as "this sweet treat often comes wrapped in an edible silver foil, signifying luxury and appreciation for the consumer."
See the full list
Desserts are a delightful part of cuisines around the world and having Indian sweets on the list is a big thing for our country. 
Last Updated Nov 1, 2023, 7:28 PM IST