Kartik Month 2023: How to observe Damodar month? Check do's and don'ts to follow this sacred month
Kartik Month or Damodar month is the holiest month in the Hindu calendar and is also loved by Lord Shri Krishna and Srimati Radharani. It is also the last month of Chaturmaas. Check how to observe vrata in this most sacred month for Lord Krishna's blessings.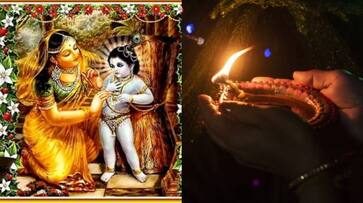 The celebration of Kartik, which glorifies Lord Krishna by offering lamps, marks the Lila or the pastime when Mother Yashoda bound Lord Krishna with ropes. The Puranas glorify the practice of observing vrata throughout the month of Kartik. There is so much 'bhaktavatsalya' this month. This month, any vrata, no matter how minor, will have a significant impact. A Kartik Vrata has an impact that lasts for 100 lifetimes. Lord Krishna got the name Damodar after Mother Yashoda bound him with a rope onto a grinding stone. 'Dam' means rope and 'Udar' means waist, hence Damodar. There is a popular belief that Lord Krishna can be easily pleased this month.
"As Sat-yuga is the best of yugas (ages), as the Vedas are the best among scriptures, as Ganga is best of rivers, so Kartik is the best of months, the most dear to Lord Krishna." (Skanda Purana).
How to observe Kartik Month?
1. Offer a ghee lamp to Lord Damodar (the picture in which Mother Yashoda binds Lord Krishna) every morning and evening and sing Damodarashtakam.
2. Always keep the Supreme Lord Hari in mind. Devotees should attempt more Harinam Chanting. Do additional kirtana and rounds.
3. Reading Srimad Bhagavatam, Bhagavad Gita, and reciting Vishnu Sahasranamam is considered very fortunate during this holy month of Kartik.
4. Every day, light a lamp for Tulsi Devi and offer prayers for eternal residency in Vrndavana and eternal service to Radha and Krishna's lotus feet. Perform four Tulasi parikramas (circumambulations).
5. People must abstain from eating non-vegetarian foods and certain vegetables like onions, garlic, brinjal and pumpkin.
6. Make Krishna some lovely offerings. Devotees need to participate in the Giriraj Govardhan Puja, the Annakuta festival.
7. Only eat Prasadam.
The excerpts from many texts (Puranas) that describe the glory of the holy month of Kartik are as follows:
"If somebody performs even a little worship of Lord Shri Hari in this month, He offers that devotee His own abode."
"If somebody burns a lamp in the temple of Lord Shri Hari even for a short time (in the month of Kartik), then whatever sins, he has acquired for millions of kalpas (one kalpa equals 1000 yugas) are all destroyed."
"A person, who for the entire month of Kartik eats only once a day, becomes very famous, powerful and heroic."
"A person who happily reads the Bhagavad Gita in the month of Kartik does not return to the world of birth and death."
"Of all gifts, the gift of a lamp during the month of Kartik is the best. No gift is its equal."
"The pious result obtained by bathing in all holy places and giving all charities is not equal to one ten-millionth part of the result obtained by following the vow of Kartik."
Last Updated Oct 29, 2023, 9:27 AM IST