How laser vision correction is transforming wedding experiences in India
With the ongoing trend of getting spectacles removed, brides and grooms want to look perfect on their wedding day, which explains the reason for the increasing adoption of laser vision correction treatments.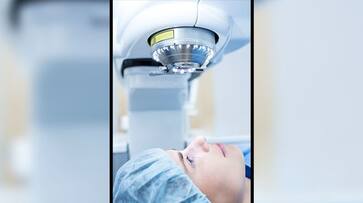 Weddings are a time of joy, celebration, and making memories that last a lifetime. For modern brides and grooms in India, the journey to the altar has taken a new turn as laser vision correction gains popularity as a pre-wedding treatment. Every year, there is a surge in soon-to-be-weds who opt for laser vision correction to bid farewell to their glasses or contact lenses. This choice is not just about aesthetics; it is about enhancing confidence, comfort, and clarity on the most important day of their lives and the new life they are about to begin.
To share some insights on the same, Asianet News got in touch with Dr. Sujatha Mohan from Chennai's Rajan Eye Care where she discussed how brides and grooms, understandably, want to look perfect on their wedding day, which explains the reason for the increasing adoption of laser vision correction treatments.
She said, "Glasses and contact lenses, while essential for clear vision, can sometimes be a hindrance during this special occasion. In such instances, laser vision correction offers them an opportunity to experience their big day without these worries. With advancements in cutting-edge technology, laser vision correction with SMILE (Small Incision Lenticule Extraction) now offers a minimally invasive approach with a tiny incision of around 2mm, helping to ensure a swift and complication-free recovery." 
What is SMILE
SMILE is a type of refractive eye surgery used to correct vision problems such as myopia (nearsightedness) and astigmatism. It is considered a minimally invasive alternative to other laser eye surgeries like LASIK (Laser-Assisted in Situ Keratomileusis) and PRK (Photorefractive Keratectomy). With SMILE, safety is paramount utilizing femtosecond laser technology for precise and gentle treatment. Patients often report rapid recovery and visual improvement, making it ideal for individuals preparing for significant life moments. 
Precision and reduced dry eye symptoms enhance the post-operative experience. With a high success rate and long-term reliability, brides and grooms can confidently embrace their important life events with consistently clear and dependable vision. In the modern world, young soon-to-be weds are empowered to choose how they want to experience their wedding day. Laser vision correction treatment, especially using ZEISS SMILE technology, is changing the bridal game. 
Concluding her inputs, she said that the modern brides in India who are eager to walk down the aisle with crystal clear confidence, and laser vision correction might just be the perfect pre-wedding gift to herself. It is also important to note that while there are many advantages of laser vision correction procedures, it is essential to plan such procedures well in advance only after consultation with a refractive surgeon to ensure the best results and a seamless wedding experience.
Last Updated Oct 11, 2023, 5:54 PM IST