From cotton basics to stylish innovations: Men embrace new era of innerwear
Modern men are pickier about undergarments, seeking comfort, style, and durability. This shows a growing awareness that innerwear improves daily well-being and aligns with one's values, making it a crucial wardrobe item.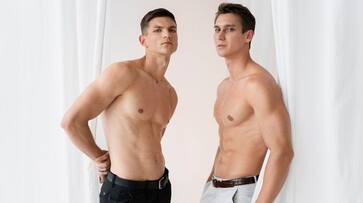 Choosing the proper undergarments and socks is crucial for men's each day comfort and self-assurance. Common errors, which include sacrificing comfort, neglecting quality, and wrong sizing, have long been overlooked. However, the innerwear landscape is changing with new entrants like XYXX, DaMENSCH, and Bummer redefining trends through innovation.
Modern men are more discerning, searching for comfort, style, and sustainability of their undergarments. This shift displays a developing consciousness that innerwear performs an essential function in improving everyday well-being and aligning with one's value system, making it a critical wardrobe attention.
 
Commenting on the trends in inner comfort wear, "Anurag Saboo, Co-Founder, DaMENSCH said, "Men now want a lot more from their innerwear as they are looking for products that fit into the fast and busy lifestyle most people lead. The ultimate solution is the Slow Fashion approach, where clothes made of sustainable fabrics become the numero uno choice. In contrast to fast fashion, these clothes can be worn repeatedly, making everyday choices simpler and also help the planet in the long run. There has been massive innovation in the space of Sustainable fabrics which is being primarily led by homegrown innovative and premium brands. Catering to their innerwear essential needs, these premium brands are a must-have for men who prefer products that add to the 'comfort' factor. 

Gone are the days when men could just pickup cotton briefs and vests from the shop with just 1 or 2 alternatives pre-decided, nowadays guys are paying heed to their innerwear comfort, experimenting with patterns & prints, fabrics and new form styles. Getting rid of worn-out stuff has become a norm including innerwear which is a very private thing. 

Chasing the trend in the internal garment region Ravi an IT Tech expert from Bengaluru shared, "In the past, cotton was the default choice for innerwear, but in recent times, we have a multitude of alternatives. Many manufacturers have started offering something new from traditional garment designs, shade & styles for innerwear, and as someone like me with a diverse collection of over 20 innerwear pieces to choose from for the occasion, I find too many good choices to make final decision. One precise item that has stuck my eye is bamboo fabric socks, which I consider a superb substitute for my current set of socks."
 
Commenting on consumer behaviour Anurag Saboo said, "They're a lot more informed and make choices that suit their lifestyle as well as conscience. Interestingly, as the spending capacity of consumers has increased, they are also willing to spend a premium price for this comfort & ease. Notably, this phenomenon is happening across different age groups, underlying the fact that this new era of innerwear is gaining wide acceptance. "
Lifestyle choices like swimming, sports, desk work etc play an important part in selecting innerwear and the market is full to explore and experiment till you find the right fit for yourself. 
Last Updated Oct 6, 2023, 12:23 PM IST