Fashion trend 101: Are cuffed kaftans, kutch embroideries to make a comeback this winter festive? Read THIS
Trends can evolve and change rapidly in the fashion industry, and factors like cultural shifts, designer collections, and the current zeitgeist often influence them, according to Kanika Vohra and Anuradha Chandrashekar, Co-founders of ICH NEXT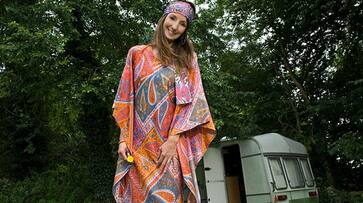 Fashion trends can vary from year to year and season to season. To stay updated on the latest winter fashion trends for 2023, We recommend checking out fashion magazines, fashion websites, social media platforms, and runway shows. These sources often provide insights into the styles, colors, fabrics, and accessories in vogue for the upcoming season.
Additionally, you can explore the collections of renowned fashion designers and brands, as they often set the tone for seasonal trends. Remember that personal style should always reflect your individual tastes and preferences, so feel free to adapt trends to suit your unique fashion sense. In a candid chat with Kanika Vohra and Anuradha Chandrashekhar, Co-founders of ICH NEXT, they gave us some tips on this year's fashion trends and advice on what will be in this winter.
Fashion forecasting is a crucial aspect of your work. Could you walk us through your process of identifying emerging trends and how you translate them into actionable strategies for your clients?
ICH NEXT - Our Service in Indian Wear Trend Forecasting is conceived through a collaboration of tech-enabled research, human zeitgeist and design expertise. 
Fashion is an expression of lifestyle and environmental influences that impact the consumer (consciously or sub-consciously). These influences span from what is happening in celebrity lifestyle, designer community, media and content, politics, travel, food & beverage, global impact initiatives, home & interiors, and so on. Enabled by our tech tool, we crawl over 700 curated sources, ensuring a 360° research of consumer influences. These sources are continuously tracked, analysed and pegged onto a fashion curve to arrive at key trends that are predicted to gain popularity for the incoming season. Furthermore, our qualitative research and secondary data read allows us to understand the deeper, underlying sentiment ebbing with the consumers and the socio-economic factors that will influence their future choices in fashion.
"Trends are rarely linear and usually a convergence of seemingly unrelated events and influences that address the latent, future demand of the consumer. And India carries its own unique complexities - A fusion of localised tastes and global influences." – states Anuradha Chandrashekar, Co-Founder and Chief Creator - ICH NEXT.
This research is actioned into tangible recommendations via reports on colour combination trends, pattern and motif trends, fabrics and surface embellishment cues, fresh detailing and silhouette trends. Furthermore, the service provides a large, functional asset library of motifs and specs that enable brands/ designers to immediately take into effect their seasonal developments. Accessed digitally through an online subscription, we release (annually) 8 reports in Indian Women's wear and 6 in Men's, thereby ensuring a continuous influx of researched trend inputs. We also engage in deeper collaborations with clients on custom advisory of future trends, tailormade to the brand's positioning and target consumer.
Can you share an instance where your accurate fashion forecasting played a pivotal role in guiding a brand's decision-making, resulting in a successful outcome?
We currently run a program with a leading fashion ecommerce platform, in collaboration with the platform's C&C (creative & content) team. The program provides for trend directives and curation inputs basis the ICH NEXT forecast, 6 months ahead of the season. These prescriptive trend directives, specific to a launch month, are further fed to the portal's leading labels / vendors who design and manufacture in accordance. This program has seen unprecedented success with the revenue per style trending at over 6 times of normal! The results prove that consumer relevant right product at the right time is a recipe for success and our forecast helps enabling the same, thus gaining the confidence of the industry in our approach and methodology.
The fashion industry often demands predictions years in advance. How do you navigate the challenge of long-term trend forecasting, and how do you ensure the relevance and accuracy of your predictions?
The Indian fashion industry requires to start the process of product engagement anywhere between 6-12 months prior to launch. This puts out the question of successful prediction. At ICH NEXT we believe, everything starts and ends with the consumer. Predictive analysis of consumer preferences only comes with research and trained zeitgeist; and fashion predictive analysis is a formula that reaches far beyond the tangible fashion world, involving deep research of all lifestyle influential factors that impact a consumer's choice or occasion. Fashion is after all an expression of those choices and occasions. 
"Consumers are now going beyond the conventional and looking at clothing based on state of mind, individual expression and emotions; and it's important to stay abreast of these evolving facets for any business to stay relevant." – states Kanika Vohra, Co-Founder - ICH NEXT.
With our objectivity and tech enablement (that helps us track incoming trends 365 days), it is possible for us to derive what trends are rising, peaking, plateauing or declining, and subsequently map onto a trend curve. We connect these dots and ultimately arrive at future trend probabilities, that would carry the highest consumer affinity in our country.
With the rise of sustainability and ethical fashion, how do you incorporate these considerations into your fashion forecasting strategies, and how does this influence your clients' brand journeys?
At ICH NEXT, we promote two integral thoughts – Create to Consumer and Design on Trend. Both speak to consumer focused, "conscious creation" practices. Only create to what is consumer relevant, at the right time for the right markets, in the right quantities. We discourage 'spray and pray' design creation that lacks research and has high width production. This carries its own inefficiencies of high discounting and of encouraging consumers to buy what they don't like/ want/ need. By subscribing to a well-researched trend forecast, and imbibing this market knowledge to their own business acumen, a brand/ retailer can choose what to bet behind and do so as a co-arrived business x creative decision. 
ICH NEXT also consistently seeks collaborations that benefit the industry by informing of more sustainable options and nudging conscious choices. We have collaborated with Tharangini, an ethically certified block printing studio in provoking fresh, on-trend concepts using ancient hand block printing techniques. We are currently pursuing an addendum on fabrics and materials that are more sustainable and yet accessible to the industry at large. 
What are the current trends in women's wear and what do you see in the upcoming winter festive season?
Festive 2023/24 observes a strong syncretic approach in fashion. A confluence of emotions, cultures and expressions that span historic and futuristic explorations. It is not one thing, but the mutually respectful coexistence of many things. With India becoming a world example for cultural tolerance, digital progression and socio-economic strength, the season draws a parallel to the country's rich cultural history, known for its progressive trade initiatives, namely that of the silk route. This festive season boldens a Persia – Africa – India – Oriental narrative in hyper-maximalist manners. 
Except to see a revival of elongated Pakistani yokes, Colonial cavalry detailing, Mixed-media kutch embroideries, Aba kurtas, the Jeliga` (a.k.a gilet) and cuffed Kaftans with pattern trends like Persian carpet prints like the Isfahan and Abadeh, Oriental florals and African adinkra amongst others. 
The season also explores digiverse, fantastical jungles brought about by an AI generative world and southern India's emerging popularity.
Last Updated Sep 11, 2023, 4:57 PM IST