Durga Puja 2023: What is Sindoor Khela? Why do only married Bengali women play Sindoor Khela? Read Details
Durga Puja ends on Vijayadashami (Dussehra), with the goddess Durga bidding farewell. While many Bengali people prepare for the visarjan, the women observe a symbolic ritual called Sindoor Khela. Know the history and significance of Sindoor Khela.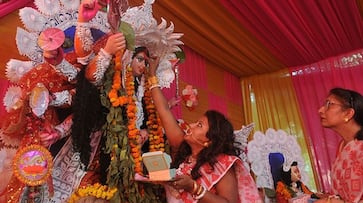 Durga Puja is one of the most famous festivals in Eastern India and one of the biggest carnivals for the Bengali population wortdwise. For these five days, the cities are illuminated, and there is a distinctively constructed pandal or themed pandal at every corner. The festival is loaded with customs ranging from pandal jumping to feasting on some delectable dishes.
The event concludes with the goddess saying goodbye on Vijay Dashami. During the visarjan (immersion), the ladies perform a symbolic rite called as Sindoor Khela. This year's rite will take place on Tuesday, October 24.
Also Read: Subho Bijoya 2023: Wishes and greeting for your loved ones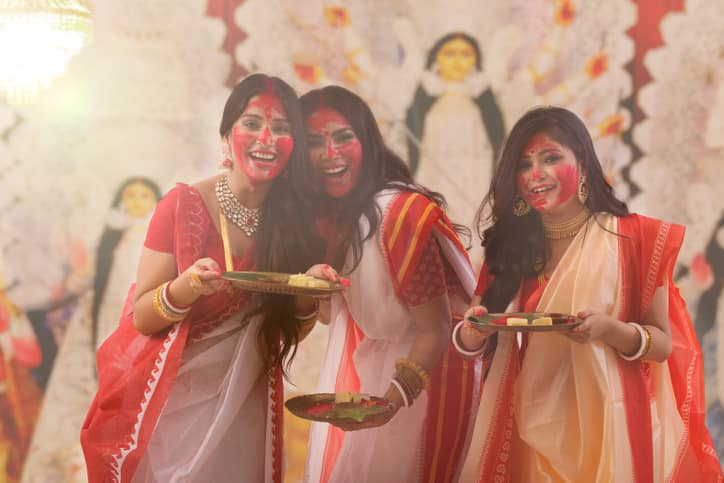 What is Sindoor Khela?
Bengali ladies, generally dressed in white sarees with crimson borders, begin the process by performing Devi Baran to bid the goddess goodbye. They perform an arti and, one by one, apply sindoor on the goddess's forehead and feet before presenting her with sweets.
Following Devi Baran, they apply sindoor to each other's foreheads and hair parts, followed by shankha, pola, and noa (three bangles made of conch shells, coral, and iron that reflect Bengali women's married status, respectively).
They are also supposed to apply sindoor on the feet of the group's senior ladies. They then playfully and meticulously spread sindoor on one other's faces.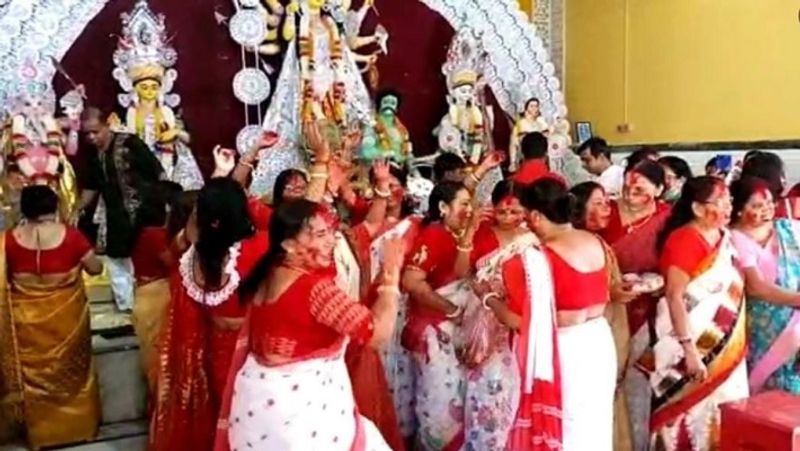 The ceremonies' roots are said to have begun with the puja itself some 400 years ago. According to some folklore, the ritual started around 200 years ago in the houses of landowners (zamindars), who staged elaborate Durga Puja festivities.
Also Read: Happy Dussehra 2023: Wishes, quotes and messages to send your loved ones
Why do married Bengali women play Sindoor Khela?
This is usually done by married women who believe that following this practice will bring them good luck and a long life for their husbands. Sindoor (vermillion) is an orange or red powder typically made from lime, alum, and turmeric, a frequent ingredient in Indian houses. The powder is an auspicious emblem for married females in traditional Hindu houses. The groom applies sindoor on the bride's parted hair on her forehead during a Hindu wedding.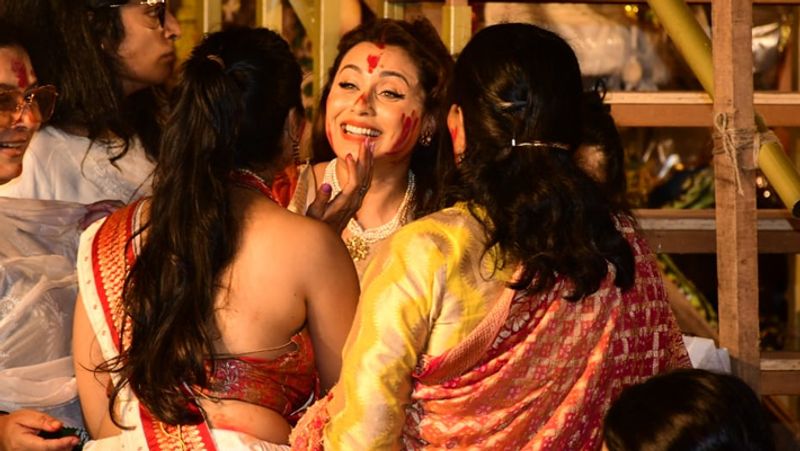 The event has created a joyous atmosphere among the ladies, akin to Holi, the current festival of colours. According to tradition, young girls, unmarried women, and widows were not permitted to join in this festivity.
In modern times, the centuries-old rite is changing. Many pandal committees have begun to welcome all women, married or unmarried, to participate in the ceremony.
Last Updated Oct 24, 2023, 11:29 AM IST