Diwali 2023: The cultural significance of milk in sweets
Diwali 2023: Delve into the rich traditions and culinary artistry of Diwali as we explore the essential role of dairy products in crafting delectable sweets, embodying the festival's spirit and cultural significance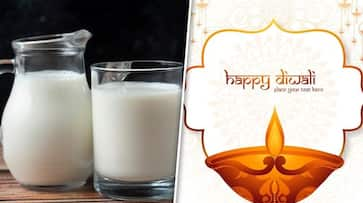 Utilizing dairy products such as milk, ghee, and their derivatives in generous quantities plays a pivotal role in the creation of the delectable treats that hold a special place in the hearts and palates of those celebrating Diwali, the festival of lights. This intricate interplay of flavors and textures that captures the essence of the celebration results from the fusion of traditional sweets with the art and science of dairy.
Milk, a staple in many Diwali sweets, undergoes a slow-cooking transformation into khoya or mawa, serving as the foundational element in traditional delicacies like barfis, pedas, and gulab jamuns. The gradual reduction of milk yields a dense, granular texture that not only enhances its sweetness but also imparts a rich, creamy flavor that defines these confections.
Ghee, a milk-derived clarified butter, occupies a significant role in elevating the flavors of various desserts. Its distinct taste and nutty aroma enhance the overall quality of sweets. Ghee functions as a binding agent, ensuring the perfect texture and a luxurious sensation in treats ranging from the flakiness of ladoos to the softness of jalebis.
Indian cottage cheese, known as paneer, showcases how dairy can be employed innovatively in Diwali sweets. Its versatility in absorbing flavors makes it a perfect addition to delicacies such as sandesh, chamchams, and rasgullas. Every bite of these creations embodies the festive spirit, thanks to the lightness of paneer and the sweetness of the sugar syrup.
Condensed milk, an essential ingredient, is indispensable for preparing desserts like kheer and barfis. Its creamy consistency imparts a velvety smoothness and a profound richness to these treats, making them irresistibly appealing.
ALSO READ: Diwali 2023: When is Dhanteras, Kali Puja, Deepawali, Bhai Dooj and Govardhan Puja? Know here
The incorporation of these dairy products into Diwali sweets not only pays homage to tradition but also underscores the artistry and science behind the culinary craftsmanship. The meticulous processing of milk and its derivatives serves as a testament to the deep cultural heritage and the significance of these confections in the Diwali celebration. These sweet offerings are more than just delightful delicacies enjoyed during gatherings of family and friends; they are embodiments of joy, warmth, and the spirit of the festival.
Last Updated Nov 8, 2023, 7:30 AM IST