Diwali 2023: Easy and tasty ragi laddu recipe at home during festivals
Ragi Laddu is a popular Indian sweet made from ragi flour, which is also known as finger millet flour. Here is an easy and tasty recipe to make ragi laddu at home.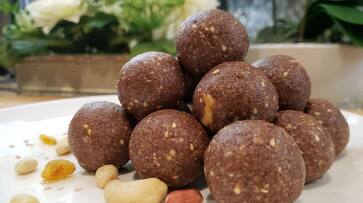 Ragi Laddu is a popular Indian sweet made from ragi flour, which is also known as finger millet flour. Ragi is a highly nutritious grain, rich in calcium, iron, fiber, and other essential nutrients. Ragi laddus are not only delicious but also a healthy snack option.
Here's how Ragi laddu is typically made:
Ingredients:
-1 cup ragi flour (finger millet flour)
-1/2 cup powdered jaggery or sugar (adjust according to sweetness preference)
-2–3 tablespoons ghee (clarified butter)
-2-3 tablespoons roasted and chopped nuts (such as almonds, cashews)
-1/4 teaspoon cardamom powder
Optional: desiccated coconut for garnish
Instructions:
1. Roasting Ragi Flour:
Heat a pan on low flame and dry roast the ragi flour until it emits a nutty aroma. Stir continuously to avoid burning. This step is crucial to remove any raw taste from the flour. Once roasted, remove from heat and let it cool.
2. Preparing Jaggery Syrup:
In another pan, melt the jaggery with a little water over low heat to form a syrup. Strain the syrup to remove impurities if needed. If you're using sugar, you can skip this step.
3. Mixing Ingredients:
In a mixing bowl, combine the roasted ragi flour, powdered jaggery (or sugar), chopped nuts, and cardamom powder. Mix well to ensure the jaggery syrup (or sugar) is evenly distributed.
4. Adding Ghee:
Heat the ghee until it's warm but not hot. Add it to the mixture. The ghee helps in binding the laddus together. Mix thoroughly.
5. Shaping into laddus:
While the mixture is still warm (but manageable to touch), take small portions of the mixture and shape them into round laddus (balls) using your hands. If the mixture is too dry, you can add a little warm ghee to help shape the laddus.
6. Garnish (optional):
Roll the prepared laddus in desiccated coconut for an extra layer of flavor and texture.
7. Cooling and Storing:
Allow the ragi laddus to cool completely before storing them in an airtight container. They will firm up as they cool down.
Enjoy these nutritious and delicious ragi laddus as a snack or dessert!
Last Updated Nov 8, 2023, 4:17 PM IST