Delhi to Mumbai, food hotspots you should not miss
Food items like biryani, vada pav, momos, chole bhature, dahi dade, and more are some of the most loved to eat, and if you are a foodie and love to explore places, here is a list of food items, cuisines you should not miss if you visit these places.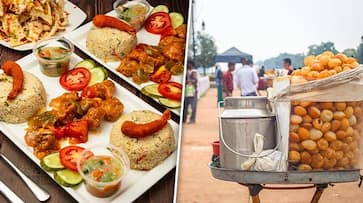 India is known for its rich and diversified culinary traditions, which make it a cuisine hub with a diverse spectrum of flavors and meals. The regional diversity of Indian food is characterized by each state and even each city having its peculiarities. Let us look at some places suggested by a survey conducted by Borzo (erstwhile WeFast), a global intra-city delivery service.
Food to eat when you visit these cities
1. Fareed Seekh Paratha in Jogeshwari, Mumbai.
2. Arsalan Biryani, Park Street, Kolkata.
3. Amber Vada Pav in Kalyan, Mumbai.
4. Butter Chicken from Rajinder da Dhaba, Delhi.
5. Misal Pav of Bedekar Misal, Pune.
6. Rawat Mishthan Bhandar's Pyaj Kachori of in Jaipur.
7. Moolchand Parantha, Lajpat Nagar.
8. Biryani of Shadab, Hyderabad.
9. Sardar Pav Bhaji, Mumbai.
10. South Indian delicacies of Udupi Shree Darshini, Ellis Bridge, Ahmedabad.
11. Meals at The Rasaganga, Bellandur, Bangalore.
12. Korean Wrap at The Empire, Bangalore.
13. Dahi Bhalle of Natraj, Chandni Chowk, Delhi.
14. Tunday Kabab, Lucknow.
15. Joshi Dahi Bada, Indore.
Street food hubs
1. Delhi: Rohini, Chandni Chowk, Rajouri Garden, Lajpat Nagar.
2. Mumbai: Mohammad Ali Road, Bandra, Andheri, Malad, Ghatkopar.
3. Hyderabad: Kukatpally, Old City, Tolichowki.
4. Bangalore: Indira Nagar.
5. Pune: Shivaji Nagar, JM Road.
Top 12 street juice and beverage
1. Mango Milkshake.
2. Cold Coffee.
3. Mosambi Juice.
4. Falooda.
5. Lassi.
6. Lemon Juice.
7. Apple Juice.
8. Badam Shake.
9. Kala Khatta.
10. Pomegranate Juice.
11. Sugarcane Juice.
12. Rose Milk.
The survey verifies the appeal of evergreen foods like biryani, vada pav, momos, chole bhature, dahi dade, and many more, while also instilling a desire to visit hotspots like Chandni Chowk and Rajaouri. To name a few, Mohammad Ali Road and Old City. This street food guide proposes that one should explore your city's culinary wonders and relish the flavors. 
India- the food hub
India's gastronomic diversity and richness of flavors have made it a gourmet destination for foodies from all over the world. India provides a culinary trip unlike any other, whether you're experiencing the busy streets of Delhi, relishing coastal delicacies in Kerala, or eating the regal cuisine of Rajasthan.
The large and diversified landscape of India, together with its multicultural people, has given rise to a unique range of regional cuisines. The country's culinary offerings range from the spicy and delicious cuisine of North India to the coconut-infused flavors of South India.
Last Updated Nov 6, 2023, 6:02 PM IST