Bharatsthali: Delivering the goodness of handloom to your doorstep
Handloom at BharatSthali is a pleasant amalgam of cultural heritage and modern aesthetics.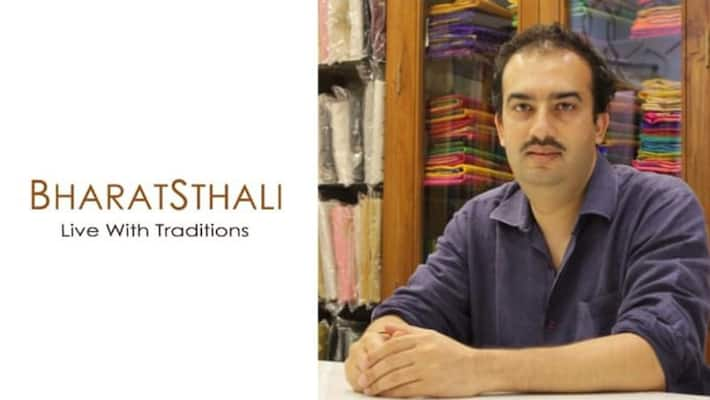 Handloom takes one on a voyage through the prosperous textile culture & tradition of India. The rhythmic motion of the handloom yarns musically narrate the tale of resilience, freedom, self reliance & growth of our nation. 
While, on one hand they offer us a dip into the ocean of our country's rich cultural history, on the other by answering to the calls of 'vocal for local', encourage us to tap into our innate potentials. 
Their nearly 5000 years of existence is marked by skills passed on from one generation of artisans to the next. And yet the practitioners of this craft find themselves battling poverty & deprivation. 
A great part of the artisans' struggles can be attributed to the threat posed on the handloom sector by the booming power loom industry. The latter with its ability to churn out more products at lower costs, has progressively increased its hold over the textile industry.
The challenges notwithstanding, the handloom sector remains unmatched in its unique blend of timelessness & innovativeness. It is with the vision to familiarize the current generation with its rich textile heritage & stitch a sustained relationship with its customers, that online enterprise BharatSthali was floated by Sumati & Pulkit Gogna in the late 2017. 
Pulkit explains, "The whole idea is to make the buying experience educative & gratifying for our customers. We want to bring them closer to their roots." Arduous research went into understanding the nuances of the industry as the couple dissected the length & breadth of the country to gain first hand knowledge. Sumati & Pulkit summoned modern technology to be their ally in their mission to resurrect this traditional textile with a history that goes back thousands of years. 
A techie himself, Pulkit got down to building the company website. While the focus initially was on pure silk & kanjivaram sarees, encouraged by the brisk growth, the company soon diversified to include the supply of silk & pure linen fabric in its ambit.  
This for profit & fair trade online enterprise in its business eliminated the role of the middlemen, ensuring that the profits percolated adequately to the artisans. Alive to the grim reality of the middlemen eating into the earnings of the weavers, Bharatsthali decided to source directly from the artisans. 
Pulkit elaborates, "We directed our efforts at creating a platform to further the cause of the artisans. Our emphasis has always been on sustainable development. Bharatsthali serves to provide a life of dignity to the artisans while also giving them the assurance of financial security." By imparting livelihood to rural women, Bharatsthali has also been actively promoting women empowerment.
Handloom at BharatSthali is a pleasant amalgam of cultural heritage and modern aesthetics. Artisans inscribe an alluring union of their creativity & experiences on each of the products. They serve as an elegant reminder of our illustrious roots. Be it the simplicity & comfort of a light & breezy cotton saree or the stiff majesty & timeless appeal of a lustrous Kanjivaram saree, the artisans at BharatSthali leave a stamp of their excellent craftsmanship on every product. A look at the company's website with its harmonious fusion of varied colours, vibrant splendor & self assured elegance and one gets acquainted with the enriching values that it endeavours to promote through its products. For more information visit bharatsthali.com
Last Updated Jul 29, 2020, 5:40 PM IST