Bengaluru celebrates Rajyotsava with fervour
On Rajyotsava Day, Kannada personalities were felicitated
School children presented colourful programmes
Some pro-Kannada outfits even organised health camps and blood donation camps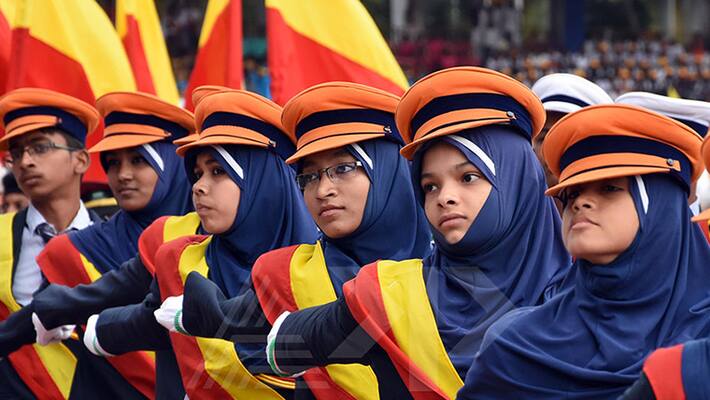 The City wore the Kannada colours on Rajyotsava day. On buses, cars, autos and private vehicles Kannada flag fluttered. Kannada personalities were felicitated, children's cultural programmes held. Some pro-Kannada outfits even organised health camps and blood donation camps, reports Kannada Prabha.
The 62nd Rajyotsava was attracted all age groups from all walks of life to pay tribute to the language and the culture of the land. Even light showers did not deter them. Folk artists performing in front of the tableaux of 'Bhuvaneshwari' were a common sight across the City. Eminent personalities were invited to hoist the flag. Singing and dancing competitions, traditional cooking and millet melas were also organised. Some organisations held painting, quiz competitions along with Kannada books exhibition.
Kannada Sahitya Parishath president Manu Baligar hoisted the Kannada flag at the Parishat premises. He gave a call to those who do not learn Kannada to learn and respect the language. Those who do not respect the language or the culture of the State are not fit to reside here, he said.
A 2040 meter long Kannada flag made by Kannada Manasugala Vedike attracted a large crowd. It was taken in a procession from Jayanagara to Town Hall. At 9 am author Chandrashekhar Patil inaugurated the programme by hoisting the flag at Jayanagara Samgam Circle. The big flag was taken in a procession via South End circle, Lal Bagh, JC Road and reached Town Hall. A poets' meet was also organised.
Scholar Dr M Chidananda Murthy said provision to learn Kannada is not made to students which is the cause for diminishing interest in Kannada. Taxi drivers celebrated Rajyotsava by organising a massive rally. With the collaboration of Huli Technologies, the rally started from HD Kumaraswamy's Namma Tiger cab service office and reached HD Deve Gowda's residence and wished him.
Last Updated Mar 31, 2018, 7:01 PM IST