Yediyurappa, Siddaramaiah and Kumaraswamy: What is at stake in Karnataka by-polls for the three bigwigs?
With the Karnataka by-polls around the corner, the future of the three bigwigs of the state – BS Yediyurappa, Siddaramaiah and HD Kumaraswamy are in precarious state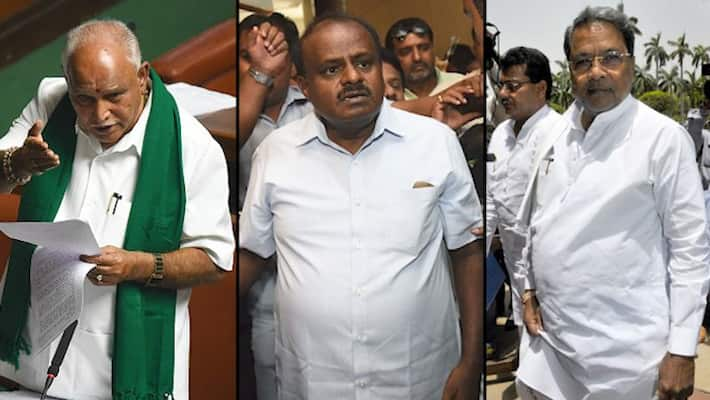 Bengaluru: The by-polls to 15 seats will not only have a bearing on chief minister BS Yediyurappa's future, but also on the stature of Congress leader Siddaramaiah and the political relevance of JD(S) leader HD Kumaraswamy. In fact, these elections have been reduced to a fight between the three — a serving chief minister and two former chief ministers — rather than one between parties.
For BS Yediyurappa, the outcome will decide how long he remains in power. Speculation is rife that Yeddyurappa's exit might have been planned and the time frame depends on BJP's performance in the by-polls.
Under national president and Union minister Amit Shah's leadership, the BJP had retired leaders from party positions at 75 years. Yediyurappa, who will turn 77 in February, was exempted following a stupendous performance in the Lok Sabha elections. If he produces a repeat performance in the by-polls, the Lingayat strongman could well dictate his own retirement.
Aware that his fate hinges on the by-polls, Yediyurappa is going all out to win at least eight seats. That would cement his position at the helm for the next three-and-a-half years.
Siddaramaiah on the other hand is eyeing a comeback, following a series of poll setbacks. His Ahinda (Kannada acronym for minorities, Dalits and backward castes) image is also at stake. He faces a stiff challenge, especially after snapping ties with the JD(S) and losing support of the dominant Vokkaliga community.
However, he faces a bigger challenge of uniting cadres and ending infighting in the party, which has escalated after the party's poor performance in the recently held Lok Sabha election. As legislature party leader, he has picked several candidates against the wishes of the old guard in his party, most of whom have stayed away from campaigning.
In the Lok Sabha elections, Siddaramaiah managed victory in only one seat. If he fails to make a significant impact now, it could well be curtains for him. But if the party does well, he could become CM again.
For Kumaraswamy, the by-polls are a huge test as the entire party is fighting to stay relevant. He has a lot at stake especially since he is increasingly losing credibility with the JD(S) rank and file. Many leaders of the party are not only cosying up to the BJP but are doing it openly.
The former CM has the task of proving his leadership skills by ensuring the JD(S) retains the three seats it won in last year's Assembly elections. An adverse result could well mean the end of the road for Kumaraswamy and the JD(S).
Last Updated Nov 25, 2019, 4:38 PM IST