Women's Day 2020: Honoured women achievers reveal their inspiring stories on PM Modi's Twitter
Women achievers shared their inspiring stories on PM Narendra Modi's Twitter handle as President Ram Nath Kovind presented Nari Shakti Puraskar on Women's Day 2020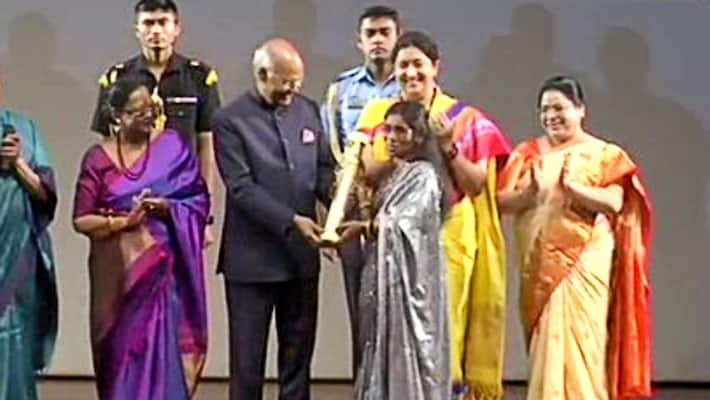 New Delhi: President Ram Nath Kovind on Sunday presented Nari Shakti Puraskar on the occasion of International Women's Day at a function held at Rashtrapati Bhavan Cultural Centre (RBCC).
The Nari Shakti Puraskar, instituted by the ministry of women and child development, are National Awards in recognition of exceptional work for women empowerment conferred every year on March 8 as a mark of respect and recognition for those who contribute towards empowerment of women.
Before the award presentation ceremony, a special screening of 'Swachh Bharat - India's Sanitation Story' was held at RBCC. 
This short film showcases the massive behaviour change that occurred across rural India under the Swachh Bharat Mission, and the role that women played in leading over 55 crore people to shun the age-old practice of open defecation.
Prime Minister Narendra Modi on Sunday marked the International Women's Day by handing over his Twitter account to seven women who shared the journey of their lives using Prime Minister's social media account. 
Let's take a look at the women, who took over PM's Twitter account and shared their inspiring stories. 
1.       Sneha Mohandoss — Contributing to a hunger-free planet: Inspired by her mother, Mohandoss initiated the idea of Foodbank India aimed at eradicating hunger. The 20-chapter strong initiative deals in activities such as mass cooking, cooking marathons, breastfeeding awareness drives.
2.       Malvika Iyer — Education is indispensable for change: Iyer lost her hands and damaged her legs in a bomb blast. Undeterred, Iyer went on to pursue her doctorate and earned a PhD.
3.       Arifa — When tradition meets modernity, wonders can happen: Arifa is working towards revival and promotion of traditional crafts of Kashmir, Namda craft. According to her, it is important for women to focus on becoming self-reliant and help other women.
4.       Kalpana Ramesh — Let us become problem solvers: Ramesh is a conservationist who works towards developing sustainable models to conserve water.
5.       Vijaya Pawar — I'm devoted to the conservation of Banjara art: Pawar has been working for the conservation of the handicrafts of the 'Banjara' community for the last two decades.
Last Updated Mar 8, 2020, 6:58 PM IST