Woman, brother harassed for protesting crowd gathering during lockdown
A woman and her brother were harassed by public on Saturday in South 24 Parganas of West Bengal, as they were protesting a crowd gathering in the area during the coronavirus lockdown.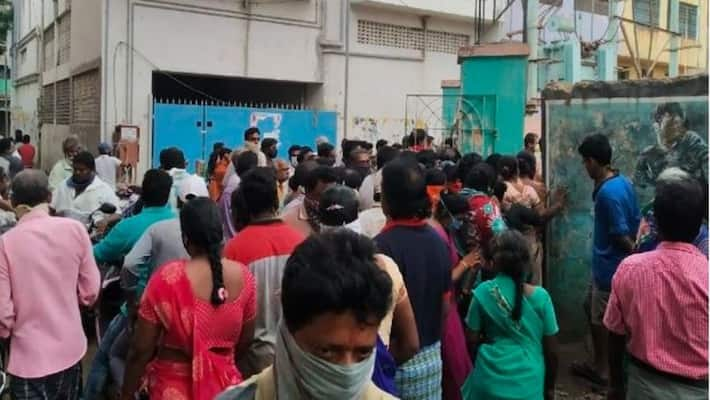 Kolkata:
Lockdown has been extended in West Bengal. But there still seems to be no awareness of social distancing and other necessary steps taken among certain parts of society. What makes it worse is that responsible citizens are getting in trouble trying to create awareness among them.
On Saturday, a woman and her brother were thrashed by public in Baruipur area in South 24 Parganas of West Bengal. INTTUC, the labour organization of the Trinamool Congress was distributing food items to auto-drivers at the Old Thana area of Baruipur. A large number of people gathered there and none of them were allegedly maintaining social distancing norms.
Devyani Pal, a local resident, saw the crowd from her balcony. Like any responsible citizen, she told the auto-drivers to maintain social distance. However, no was bothered to listen to her.
Devjani then decided to post a video of the scene on social media and ask others for help. However, while she was trying to shoot the video, the auto drivers allegedly began to harass her. A heated argument took place, according to the locals. In the meantime, Devyani's brother Bappa, stepped in to support his sister.
According to sources, in the middle of the heated conversation, auto-drivers struck Bappa on the head with a bamboo stick. His skull cracked open. He was immediately rushed to Baruipur sub-divisional hospital. According to doctors, his wound needed two stitches. Bappa and Devjani have filed a complaint at Baruipur Police Station.
"Very unfortunate", said Bivas Sardar, the president of INTTUC, Baruipur block, commenting on the situation. He added, "I have already talked to the family members. Our organisation arranged to provide some assistance for the auto-drivers. All of a sudden, the young woman came in and started to argue. Then his brother added more heat".
Last Updated Apr 14, 2020, 5:48 PM IST