Wife donates constable's eyes to others despite suffering from vision loss
Time and again police personnel make decisions and perform acts that make their department proud and the family of Bhaktharam YS did not different. After realising the deceased constable can be remembered even after his death, his family decided to donate his eyes to others, despite his wife suffering from vision loss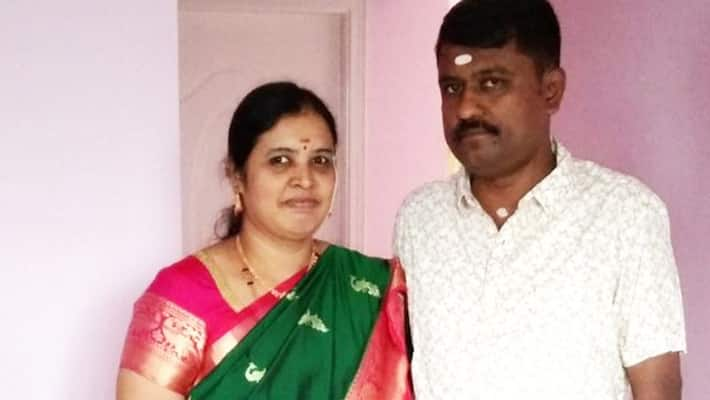 When doctors at the hospital declared constable Bhaktharam YS brought dead, the family could have had his eyes donated to his wife who suffers from 80% vision loss. However, his family decided to make the lives of others bright by opting to donate outside the family.
The constable was heading home on February 3 after completing work at 8:30 pm. While taking a turn at a traffic junction in Goraguntepalya, a speeding truck lost control and hit his bike. The cop who fell on the road was run over by a car heading towards him.
Though public got together and rushed him to People Tree Hospital, he was declared brought dead. His wife Sumangala who became aware of the incident decided to donate his eyes to others despite her suffering from a retina problem.
"He called me before leaving office. He asked me whether I need any groceries. My son spoke to him and asked for a few books and a few hours later I got a call saying my husband is no more. I was in shock. Instead of my husband's eye getting buried, I decided to help others. My eye is good, but the retina is damaged," said Sumangala, Bhaktharam's wife.
Sumangala has been suffering vision problems since the age of 27. A stroke damaged her retina further. The doctors at the private hospital treating her said her eyes are good and only her retina needs treatment.
Knowing that her eyes are in good condition, she opted for donation after her death. Inspired by her, Bhaktharam also registered to donate his eyes. Two of their children also followed suit.
Police chief Bhaskar Rao has lauded the family and stated that they will be honoured for their gesture.
The police commissioner expressed pride in the family of the policeman saying,  "Head Constable Bhaktharam's wife suffers from a vision problem. Instead of using her husband's eyes to help her situation, the family decided to help others see the world. A few days later, once they come out of the shock of this tragedy, the department will honour them," said the commissioner. 
Last Updated Feb 8, 2020, 5:10 PM IST