Uttar Pradesh refuses Centre's water-train to Bundelkhand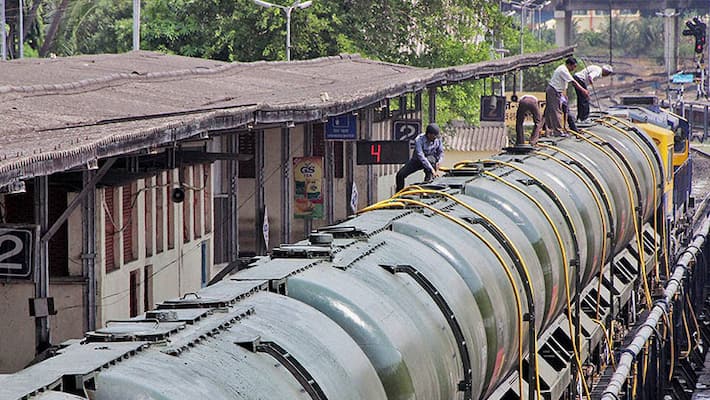 Slamming brakes on a water-train offered by the Centre for the parched Bundelkhand region, the Uttar Pradesh government on Thursday said the crisis was "not as serious" as in Maharashtra's Latur.
The state government, however, requested the Centre to provide it 10,000 tankers for distributing water in the region."UPCM @yadavakhilesh requests GOI for 10,000 road tankers to distribute water in Bundelkhand from available water resources around the region (sic)," the CM office tweeted.
Bundelkhand is facing a crippling shortage of water and with an eye on the 2017 Assembly polls, political parties are trying to take credit for resolving the crisis. Ruling Samajwadi Party has accused local BJP leaders of asking the Centre for a water-train to snatch credit from the Akhilesh Yadav government, which has distributed relief packets in the region.
In a similar refrain, senior Uttar Pradesh minister Shivpal Singh Yadav said in Kanpur, "We do not need water from outside, when we will need water, we will ask for it. Where will we store it if it comes through a train like this?"
 Meanwhile, a 10-wagon water-train for Bundelkhand has reached Jhansi where it is parked in the railway yard."The wagons are ready to be filled with water from a nearby reservoir for dispatch to the destination as and when needed," Commercial Officer, Jhansi Railway Division, Girish Kanchan said.
 With social media going abuzz with reports that the water train sent by the Centre was empty, the Chief Minister directed DM Jhansi to conduct an inquiry. The Chief Minister will meet Prime Minister Narendra Modi to discuss the drought and water crisis in Bundelkhand in New Delhi on May 7, official sources said.
Last Updated Mar 31, 2018, 6:50 PM IST