WATCH: World's tallest Nataraja statue installed at G20 Summit venue Bharat Mandapam; stunning videos go viral
The Bharat Mandapam, hosting the upcoming G20 Summit 2023, showcases the awe-inspiring world's tallest Nataraja statue, standing at an impressive 28 feet.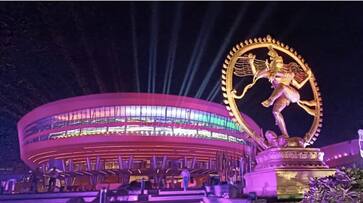 The G20 Summit venue in Delhi is now home to the tallest bronze Shiva Nataraja statue, as Union Minister Pralhad Joshi shared in a video on X, formerly Twitter. Standing at 28 feet and weighing approximately 20 tonnes, this majestic Nataraja statue was created using a traditional casting technique and crafted from 'Ashtadhatu,' a blend of eight metals. The statue graces the front of Bharat Mandapam, the site chosen for the upcoming G20 summit in Delhi, and holds profound artistic, religious, and spiritual significance.
This stunning statue portrays Lord Shiva in the dynamic dance posture known as tandava, radiating energy and vitality. It was meticulously fashioned using the ancient lost-wax method of metal casting, a technique employed in Nataraja sculptures since the Chola period, dating back to the 9th century AD. The eight metals used in its construction include copper, zinc, lead, tin, silver, gold, mercury, and iron.
Remarkably, this monumental piece of art was crafted in Tamil Nadu within a record-breaking seven-month timeframe, as reported by news agency ANI. The city has been adorned with numerous statues and posters reflecting the country's rich diversity, delighting commuters and visitors alike.
Over the past few months, civic authorities have undertaken a substantial beautification initiative. In addition to cleanliness efforts, the city now features captivating water fountains. India is preparing to host the G20 Summit on September 9-10 at the state-of-the-art Bharat Mandapam Convention Centre in Pragati Maidan, New Delhi.
Last Updated Sep 5, 2023, 10:05 PM IST