WATCH: Man beaten up after throwing haldi on Maharashtra Revenue Minister amid reservation row
Maharashtra Revenue Minister Radhakrishna Vikhe Patil was showered with turmeric powder by members of the Dhangar community during a meeting about their reservation demands.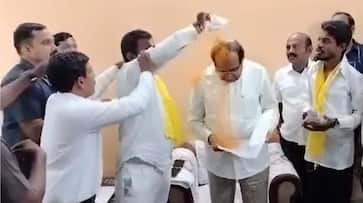 Maharashtra Revenue Minister Radhakrishna Vikhe Patil had an unexpected encounter on Friday as he met with members of a community demanding reservation. During the meeting, a video captured the moment when two individuals from the Dhangar (shepherd) community, standing on either side of the minister, suddenly doused him with turmeric powder, locally known as "haldi."
In the video, it is clear that the minister was reading a letter handed to him by the individuals when one of them pulled out a packet of turmeric powder from his pocket and showered it over Patil's head. In response, the minister's aides swiftly grabbed the man responsible, forcibly brought him to the ground, and subjected him to physical aggression. Throughout the incident, the protester passionately voiced his concerns about the reservation issue in Marathi.
This unusual event unfolded at the government rest house in Solapur district. The protester, identified as Shekhar Bangale, later explained to the media that his action was intended to draw the government's attention to the pressing issues faced by the Dhangar community. He reiterated the community's demand for reservation under the Scheduled Tribes (ST) category and issued a stern warning, declaring their intent to resort to similar tactics, including splashing black paint, targeting even the Chief Minister or other state ministers if their demands were not promptly addressed.
In a surprising response, Radhakrishna Vikhe Patil expressed his lack of objection to the turmeric powder incident. He justified it by stating that turmeric powder is commonly used in religious rituals and is considered holy, framing it as a joyful occurrence. Furthermore, he indicated that he had not called for any punitive action against the protester. Regarding the physical altercation involving his party workers, Patil explained that at the heat of the moment, nobody comprehended what had occurred, so their response was a natural reaction. He emphasized that he had instructed his party members not to pursue any further action against the protester.
The incident comes in the wake of aggressive protests in Maharashtra by members of the Maratha community after the state government's reservation for this politically influential group was revoked by the Supreme Court.
Last Updated Oct 27, 2023, 9:31 AM IST