Viral Video: Long queue at Thane railway station sparks 'Spirit of Mumbai' debate (WATCH)
Mumbai's overcrowding and daily struggles at Thane station spark outrage on social media, questioning the "spirit of Mumbai," prompting a debate on various factors contributing to long queues in the city.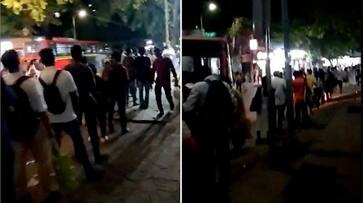 Mumbai, often referred to as the "City of Dreams" in India, is renowned for its dynamic energy. Despite its congestion, the city welcomes people from diverse backgrounds. Its vibrant culture celebrates its unwavering resilience, even in the face of the most challenging situations. However, concerns arise at times due to the overcrowding of public spaces, which can make daily life in Mumbai quite difficult. The high population density often leads to people struggling to access necessities.
A recent video circulating on the social media platform Reddit depicted a scenario like this, where a massive queue of people patiently waited at Thane station. This video, highlighting the difficulties people face, has sparked outrage among social media users who argue that labelling these daily struggles as the "spirit of Mumbai" is misguided.
In the comment section of this viral video, social media users left a range of comments, deeming it unfortunate and distressing that people have to endure long queues for essential commuting services in a metropolitan city like Mumbai, where such facilities should ideally be readily available.
"I was supposed to be one of those bystanders waiting for shared autos, but seeing this huge line, it would easily take another hour to even get the rickshaw. To avoid this, I basically walked from Thane station till Vartak Nagar because this was so frustrating," commented a user.
Diverging from the critical remarks of others, another user penned a comment that stood out.
"But it's definitely a spirit to stand in line like civilized citizens. I don't think any other Indian city has this. Inefficiency is another topic," the user wrote.
However, this video has started a debate, encompassing all relevant subjects that could contribute to such lengthy queues, ranging from bike taxis to the influence of the autorickshaw mafia.
Last Updated Oct 20, 2023, 6:42 PM IST