Vechoochira set to be Kerala's first village where everyone has pledged to donate their eyes
The Vechoochira Panchayat in Pathanamthitta district of Kerala will soon become a complete eye donation village of the state.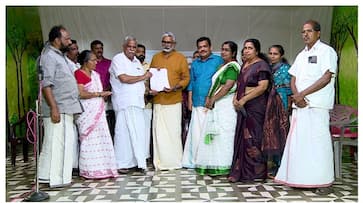 Pathanamthitta: Vechoochira Panchayat in Pathanamthitta district is set to become the first complete eye donation village in the state. As a first step, all the panchayat members gave their consent to donate their eyes. The project is being implemented in association with the 'Kazhcha-Nethradana Sena' organisation chaired by film director Blessy.
Ratnamma, a native of Ranni, died in September 2010. Eyes were donated posthumously to two people. The decision was taken by her brother Suresh, who is a member of the Kazhcha eye donation organization. Following this, Vechoochira Village is preparing to enlighten more people under the guidance of this organisation. The people's representatives themselves initiated the project by issuing an eye donation memorandum. The panchayat president and members also gave a memorandum.
As part of the eye donation, Kudumbashree will go door-to-door in association with libraries and clubs to create awareness. Consent for eye donation will be obtained from the people. The eye donation organization is working with the support of the government. Officials informed that the organization has been able to provide eyes to 24 people so far.
A movement and organisation called Kazhcha were founded to combat blindness. An organisation called Kazhcha-Nethradana Sena is promoting eye donation at the grassroots level based out in Ranni. They strive to increase public awareness of the issue and combat the stigma associated with eye donation. Inauguration of Kazhcha took place in February 2010. 
Last Updated Oct 25, 2023, 12:14 PM IST