Varanasi stampede triggers suspensions, political blame
Chief Minister Akhilesh Yadav has directed an exgratia 5 lakh for those killed.
The ruling Samajwadi Party said it was not the time to dabble in a blame game.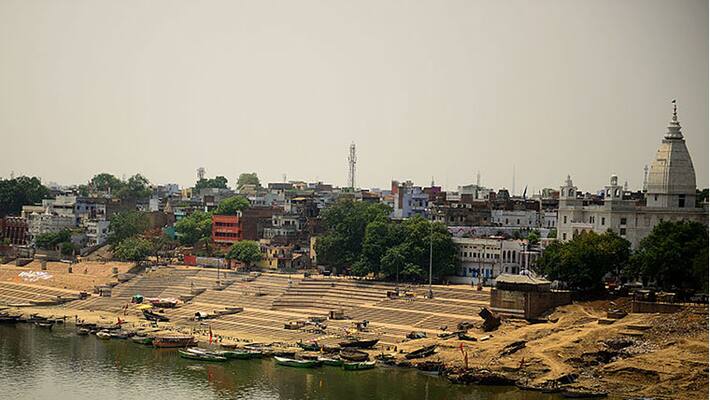 The toll in the stampede on an overcrowded bridge on Varanasi-Chandauli border rose to 25 with one more person succumbing to injuries in a hospital today, even as Samajwai Party government faced fresh opposition salvos over the incident. 

District Magistrate Kumar Prashant told reporters here that the stampede claimed 25 lives. While 24 deaths were reported yesterday, one more died in hospital this morning. Of the deceased, 20 were women, police said.

The incident took place in Ramnagar police station area of Varanasi when thousands of followers of Jai Gurudev were crossing the Rajghat bridge for proceeding towards Domri village in Chandauli for a two-day congregation that concluded today under the shadow of gloom. 

President Pranab Mukherjee expressed condolences over the loss of lives in the stampede and called upon the authorities to provide all assistance and help to the victims. 

In his message to Uttar Pradesh Governor Ram Naik, he said, "I am sad to learn about the stampede in Varanasi in Uttar Pradesh in which a number of persons have lost their lives and others are injured. I understand relief and rescue operations are currently underway. 

"I call upon the state government and other authorities to provide all possible aid to the bereaved families, who have lost their near and dear ones as well as medical assistance to the injured," he said. 

As opposition parties held the state government and local administration "responsible" for the incident, BJP today fired a fresh salvo with Union Minister Bandaru Dattatreya blaming the Akhilesh Yadav government for "failing to take lessons from similar mishaps in the state earlier" and demanded a high-level inquiry into the incident. 

"The state government has to take complete responsibility for the incident. It is a total failure on its part. The state government has not learned any lessons from the previous stampedes that occurred in 2010 at Pratapgarh in which 63 people died and during 2013 Kumbh Mela in Allahabad which claimed 36 lives," Dattatreya said. 

"The state government cannot wash off its hands by suspending few police officials from the duty," he said after meeting the injured in Varanasi.

Dattatreya's reference was to suspension of Varanasi Superintendent of Police City Sudhakar Yadav, SP Traffic Kamal Kishore, Kotwali Circle Officer Rahul Mishra, Station Officer of Ramnagar police station, Anil Kumar Singh and In-charge of Mughalsarai police station in Chandauli district and Sub-inspector Vinod Yadav. 

Another senior BJP leader and Union Minister Mahesh Sharma said the incident "indicates the mismanagement" of the arrangements for the event and expressed the need to fix responsibility. 

"It is a sad incident. It shows the mismanagement of the arrangements. We have to fix responsibility for it and be cautious such incidents do not reoccur," he said. 

Expressing grief over the tragedy, former JD-U chief Sharad Yadav today sought guidelines to regulate religious congregations, saying such tragic incidents have become common at such gatherings. 

BSP supremo Mayawati has said it is the responsibility of the state government and local administration to ensure proper arrangements and police force for such public functions so that no untoward incident occurs which was, however, not done in Varanasi. 

Congress leader Satyadev Tripathi said Varanasi incident is the fallout of "administrative failure". 

Facing opposition flak at a time when Assembly elections in the state were barely a few months away, the ruling Samajwadi Party said it was not the time to dabble in blame game and instead concentrate on providing relief to the affected. 

Chief Minister Akhilesh Yadav has directed the Varanasi Commissioner to institute a magisterial inquiry into the incident and said stern action will be taken against the organisers or administration, whosoever is found guilty of negligence that lead to the stampede. 

He extended an ex-gratia of Rs 5 lakh each to next of kin of those killed and free treatment to the injured admitted to different hospitals in Varanasi and Chandauli. 

Besides the ex-gratia, Yadav announced another compensation of Rs 5 lakh under the Samajwadi Kisan and Sarvhit Bima schemes, an official release said. 

He also said that injured will get Rs 2.50 lakh from these schemes for the treatment and Rs 1 lakh for artificial limb, if required. 

Varanasi district administration has set up a helpline number - 0542-2508464.
Last Updated Mar 31, 2018, 6:39 PM IST