UP man, accused of molesting girl, injured in police firing while attempting to flee from custody - WATCH
According to police, the girl was molested by Afzal during a Ganesh Visarjan Yatra on Monday. Locals caught hold of the man and handed him over to police.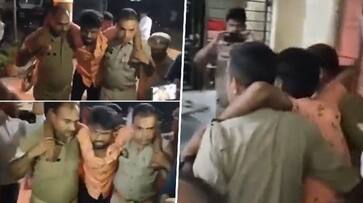 In a harrowing incident in Uttar Pradesh's Hardoi district, a man arrested for allegedly molesting a 14-year-old girl found himself injured in a police encounter as he attempted to escape from custody by snatching the pistol of a head constable.
The disturbing episode unfolded during a Ganesh Visarjan Yatra when the accused, identified as Afzal, allegedly molested the girl. Local residents apprehended Afzal and handed him over to the police.
In a distressing turn of events, the victim reportedly attempted suicide by hanging herself. Her mother discovered her hanging and immediately raised an alarm. Family members rushed the girl to a community health center in Pihani, from where she was subsequently referred to the district hospital.
Superintendent of Police Keshav Chandra Goswami confirmed Afzal's arrest, which occurred on Tuesday. However, while being transported by the police, an unexpected obstacle emerged as stray animals obstructed the road, causing the police vehicle to slow down. Seizing this opportunity, Afzal managed to snatch the pistol of the head constable and began firing in an attempt to flee. This prompted the police to fire in self-defense, resulting in Afzal sustaining injuries. He was swiftly transported to a community health center in Shahabad for medical treatment, as reported by the authorities.
Last Updated Sep 27, 2023, 4:53 PM IST